Cotton Matters - 29 July 2022
Cotton Matters - 29 July 2022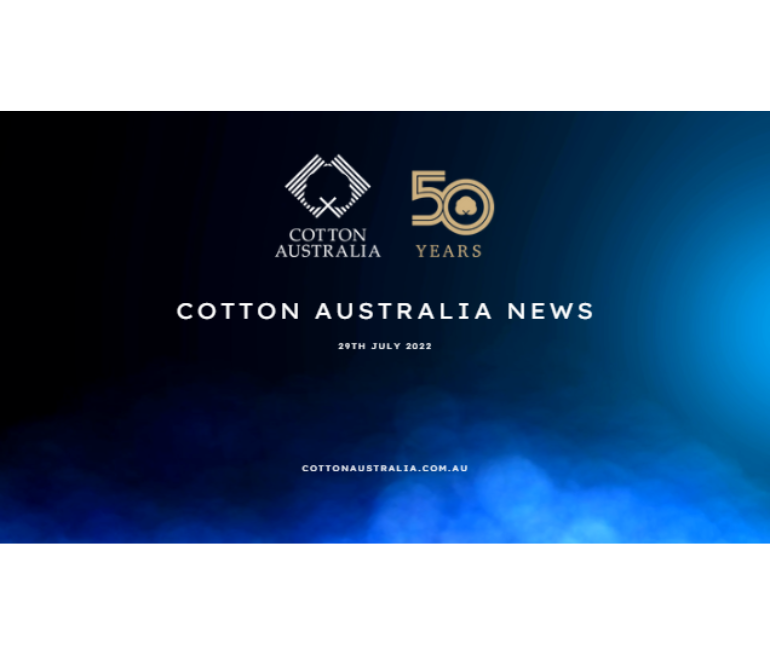 Cotton Circularity Project shows positive results

A 12-month trial at Sam Coulton's cotton farm in Goondiwindi has shown its possible to divert large amounts of cotton textile waste at end-of-life from landfill with no harm done to soil health or cotton yields.

About two tonnes of cotton textile waste was spread across a trial site at Sam's farm under the watchful eye of UNE Soil Scientist Dr Oliver Knox.
The results have impressed project partners Cotton Australia, Sheridan, Coreo, CRDC and the Queensland Government, with at least 2,070kg of carbon dioxide equivalents mitigated through the breakdown of garments in the soil rather than landfill.
Dr Knox also discovered an increase in microbial activity and improved soil health with no impacts on soil health or crop production.
Northern Territory showgoers discover cotton

Cotton Australia proudly advocated for the Australian cotton industry to showgoers in the Top End last week.
Our team was on hand at the Katherine and Darwin shows in the Northern Territory educating attendees about the industry and the growth of cotton in northern Australia.
Showgoers discovered our industry by watching our virtual reality video, and asked their questions of our team.
Our myBMP team also travelled to Kununurra in Western Australia to hold a myBMP Express workshop for growers in that region.
Aussie cotton dog jumpers a hit on social media

Farm dogs are taking over Cotton Australia's Instagram page, thanks to a partnership with iconic Australian fashion brand Country Road.
To showcase the product, the Cotton to Market team sent out the Country Road 100% Australian cotton dog jumpers to some growers and asked them to photograph their pets for the campaign, in the lead up to International Dog Day on 26th August.
The results are pawfection.

Country Road is kindly offering our cotton farmers a 10% discount on the Australian Cotton Dog Jumpers for the month of August – so head to https://www.countryroad.com.au/home-pet/ and use the code: GROWERS10 to pick up one for your pooch.

Make sure you check out the adorable dogs on our Instagram by following @auscotton today.


2021 Service to Industry Award recipient announced

Third generation Murrumbidgee farmer Rob Houghton has been awarded the prestigious Incitec Pivot Fertilisers 2021 Service to the Cotton Industry Award.
The award was announced recently at the Southern Valley Cotton Growers Association annual awards dinner by Incitec Pivot Fertiliser's Vice President Ammonia & Liquids, Trent Cosh.
While farming is in his blood, Rob is a recent but passionate convert to growing cotton, yet he is a pioneer in the South, becoming one of the original growers to plant cotton in the region.
Cotton Australia CEO Adam Kay said Rob deserves the recognition as the 2021 Services to Cotton Industry award winner because he works tirelessly for the improvement of the entire irrigation industry as well as others.
Countdown on to 2022 Australian Cotton Conference

The Australian Cotton Conference is fast approaching, with a program expected to engage, challenge, and unite our important agricultural industry at a time of great opportunity and change.
The event will be held on Queensland's Gold Coast from 16th – 18th August 2022.
The program will centre around the theme "Here for Good", and will explore cutting edge cotton science, contributions to the economy and regional communities and resilience in the face of many recent challenges.

Full Cotton Australia levy paying growers can access a discount when they register for the conference. During the registration process, you will be asked to supply a Grower Number – this is any number assigned to the grower by their ginner or merchant.
Book your Conference tickets

Discover the Conference program
Update on the current Working Holiday Maker (also known as Backpacker Visa holders)

Cotton Australia's policy team has received an update on the current situation around the Working Holiday Maker visa program.

The number of working holiday makers (WHMs) arriving in Australia continues to increase, with around 2,000 to 3,000 WHM visas granted per week by the government.

As of July 2022, there were approximately 41,000 WHMs currently in Australia. Additionally, there were nearly 52,000 WHMs offshore who can travel to Australia.
It is largely unknown why there are so many WHMs not yet in Australia, despite having already been granted their visa. The common thought is they are waiting for cheaper flights before deciding to travel to Australia. Once granted, a WHM visa holder has 12 months to arrive in Australia.
The current number of WHMs in Australia, mentioned above, has increased by about 9,000 since the beginning of May 2022, and represents an increase of 94% since December 2021 when national borders reopened. At the lowest point during the pandemic, when borders were closed, there were only 19,000 WHM visa holders in Australia.
Forecasts estimate Australia will not see a return to pre-pandemic levels of roughly 140,000 WHMs at the peak of each year until 2024. There are also indications that the majority of WHMs who have arrived do not need and/or are not motivated to do farm work.
Many WHMs have arrived with savings, so aren't looking for work or an income. Given low unemployment rates, many can find jobs in the urban centres, and having just arrived don't need to do their 88 days to extend their visa. Therefore, this indicates there will be a delay in potential farm workers travelling to regional areas to take up employment opportunities.
Australian cotton and soil scientist take soil your undies to West Africa

Australian cotton and soil scientist Oliver Knox is helping to extend his ground-breaking 'Soil Your Undies' project to West Africa and Western Uganda, where it has been welcomed with great enthusiasm.
The UK's Pesticide Action Network is working with farmers in Benin West Africa and has completed a pilot Soil Your Undies project. The trial will now be expanded to compare the different farming systems and also to look at improvement in soil health between farming systems.
In Western Uganda, a long-term volunteer providing conservation education for elementary school students and others, is looking at their own Soil Your Undies Project to engage the community in protecting and preserving Kibale National Park as part of the Kasiisi project.
Cotton Australia CEO Adam Kay said 'Soil Your Undies' is another example of the cotton industry's focus on circularity and environmental stewardship. "Our cotton farmers have made significant advances in sustainability and soil health and the biodegradable nature of our natural fibre is an important element in growing consumer demand for Australian cotton across the world."
Apply now: Communications Manager role at Cotton Australia

Cotton Australia is seeking a Communications Manager (Digital Strategy) to join the team, based in its Sydney office alongside the Communications Manager (Stakeholder Engagement).
Are you a communications specialist who can think strategically, proactively manage issues and roll-up your sleeves to implement a plan? Are you keen to work with a small team of dedicated staff who are passionate about digital communication, agriculture and regional affairs?

The two Communications Manager positions work together and support each other. Reporting to the CEO, you will drive and deliver Cotton Australia's communication strategy.
The successful applicant will have:
Strategic communication thinking and planning skills.
Proven experience developing and implementing communications and digital strategies.
Practical experience proactively managing critical issues and the ability to provide outstanding strategic advice to Senior Management and Board.
Excellent practical communications and writing skills across a broad spectrum of platforms and for a range of audiences.
Outstanding digital media skills, including high-quality content production, social media use and community moderation, website management, and graphic design skills.
Extensive communications project management experience.
Experience networking within media and industry spheres; ideally you will have an existing network in place.
Knowledge of and commitment to Australian agriculture and rural affairs, as well as a working knowledge of politics.
Exceptional organisational skills and the ability to work effectively with minimal supervision.
Relevant tertiary qualifications in journalism, communications, digital media (or similar), and at least five years' experience in senior communication positions; and,
An ability to work effectively and collaboratively with a small and cohesive team.
For further information, contact Adam Kay, Chief Executive Officer, Cotton Australia: 0437695222.
Applications and requests for Position Description should be emailed to [email protected]
More information and apply now
Register now: virtual workforce summit

Growers in Queensland and encouraged to register for an upcoming summit on workforce issues.
The Queensland Agworkforce Summit will be an online event from August 3rd – 5th 2022, hosted by the Queensland Farmers' Federation, the Rural Jobs and Skills Alliance, Jobs Queensland and the Queensland Government.
The summit aims to bring together Queensland agribusinesses to discuss workforce issues and strategies to ensure they have a sustainable workforce over the next five years.