Australian cotton and soil scientist take soil your undies to West Africa
Australian cotton and soil scientist take soil your undies to West Africa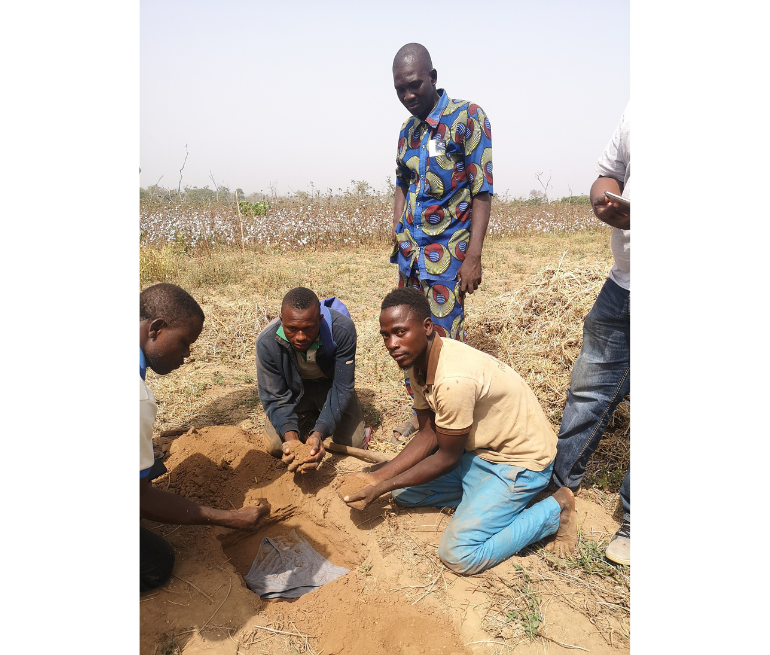 Australian soil scientist Oliver Knox is helping to extend his ground-breaking 'Soil Your Undies' project to West Africa and Western Uganda where the project has been welcomed with great enthusiasm.
The UK's Pesticide Action Network is working with farmers in Benin West Africa and has completed a pilot Soil Your Undies project. The trial will now be expanded to compare the different farming systems and also to look at improvement in soil health between farming systems.
In Western Uganda a long-term volunteer providing conservation education for elementary school students and others, is looking at their own Soil Your Undies Project to engage the community in protecting and preserving Kibale National Park as part of the Kasiisi project.
Dr Knox, an Associate Professor of Soil Systems Biology has been working in cotton since 2004 and running Soil Your Undies Challenges since 2018 in collaboration with CottonInfo, UNE SMART Farms and UNE Discovery.
The project involved burying 100% cotton undies in crops and fields across Australia, to explore soil health by assessing how much of the undies were left after an eight-week period. The trial was a great success engaging with more than 500 citizen science groups taking part over the last two years.
Dr Knox said the degradation was varied with some underpants only identifiable by elastic and the polycotton stitching while others could be washed and put back on. The best results were achieved in soils with optimal moisture to keep microbes alive. The results have been examined to gauge the health of participants' soil at different locations, so action can be taken to improve microbial activity where needed.
The research scientist said it was exciting working with interested groups in the African continent with a shared interest in soil health. "We have established a protocol that should work in Benin, using pre-weighed squares of cotton with polyester labels to identify the samples. Burial time will be standardised, soils samples will be taken for analysis and the weather over the burial period will be monitored.
"Undies were not seen as feasible In Western Uganda so small cotton squares will make a useful substitute. I will remain in contact with those involved to offer help and provide a source of advice moving forward."
As for Soil Your Undies in Australia? Dr Knox said: "we are still keen to encourage Australians to soil their undies in the aim of exploring their soil health and to compare their pants with others using the CottonInfo map."
Cotton Australia CEO Adam Kay said 'Soil Your Undies' is another example of the cotton's industry's focus on circularity and environmental stewardship. "Our cotton farmers have made significant advances in sustainability and soil health and the biodegradable nature of our natural fibre is an important element in growing consumer demand for Australian cotton across the world."