World Cotton Day a time to celebrate and look forward with optimism
World Cotton Day a time to celebrate and look forward with optimism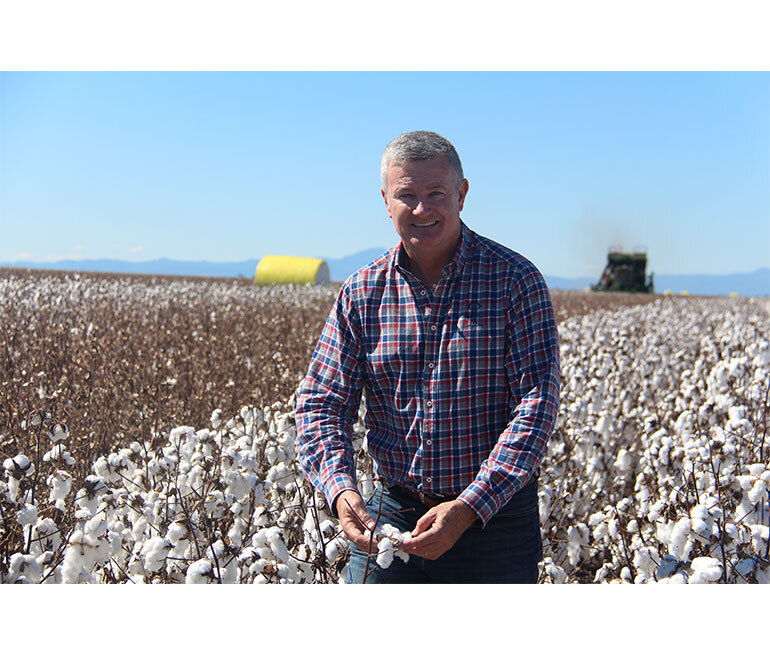 Early October is always an exciting time for the global cotton industry, as we join together to celebrate the fibre we work so hard to produce.
With each year that passes, excitement around World Cotton Day builds, and it is fast growing in recognition on the global stage.
For me, it is a day to stop and reflect on Australian cotton's many successes, on the many challenges we have navigated, and on the many goals we are still to achieve.
When I began in Australian cotton 35 years ago, it is fair to say our industry looked different to how it does today.
I think of those early days and reflect on us, as this relatively new agricultural enterprise, where the pioneering growing families were working hard to develop and establish a cotton industry that was viable and socially accepted.
Since then, we have marched onto the world stage with self-assurance and pride, and let our actions and results do the talking. We may be a relatively small producer of cotton compared to other countries; but what we lack in size we make up for in punch, as a leader in efficiency, sustainability, fibre quality and profitability. Sure, we continue to have our critics and probably always will; but what is certain is that Australian cotton growers will never stop sharing their story, never stop having open conversations with those who question us, and never stop educating about the huge successes we have made and the goals for improvement we have.
On World Cotton Day this year, in a year besieged by calamity as COVID-19 turned our lives upside-down, I am particularly proud of our Australian cotton industry.
I am proud that, as an industry, we have drawn on our reserves of resilience to endure and navigate a pandemic, a severe drought and a public gut-punching at the hands of ill-informed critics and opportunistic politicians.
I am proud that we have up to 1,500 cotton farms in Australia with growers whose work helps keep our economy's heart thumping.
I am proud of how our industry directly employs 12,500 people, mostly on family farms in rural areas, and contributes on average $1.8 billion a year to the national economy.
I am proud of the major social contribution our growers make to regional communities, with 93% spending the vast majority of their business expenses in rural towns, and 71% making regular donations to local charities and programs.
I am proud of the extensive conservation work our growers undertake on their properties to ensure the health of the environment and to help build a thriving natural habitat.
The year 2020 has also seen our industry make significant advances on its sustainability journey – something I also reflect on during World Cotton Day. When our second five-year Sustainability Report was released earlier this year, some of the salient figures in the study highlighted the huge improvements our industry has achieved. Since 1992, producing a bale of cotton now takes 48% less water, 34% less land, and 97% less insecticides. Those figures are truly exceptional, and are achievements our growers should take enormous pride in.
Of course, the journey is far from over and our industry can always do more to improve. This World Cotton Day is a great opportunity to continue sharing our story with the community at large. We acknowledge we need to be better at informing the public about what we do and why we do it, so they can come with us down the path of success we have been walking for years. We want people to know our farmers and to see that Australian cotton is a world-leading industry that acts sustainably and responsibly and cares for the environment. I encourage everyone to visit the news section of Cotton Australia's website to read profiles and stories about our growers and their journeys in our industry. There are some truly remarkable stories out there and they highlight to me how diverse, yet cohesive, our industry is.
The other area of improvement we are continuing to work on is in the sustainability space. Our growers and industry representatives are finalising our sustainability targets for the next five years, and we look forward to launching them soon.
As our world continues to stabilise on its axis after the shudders of the COVID-19 pandemic, I hope that as a domestic and global cotton industry we use the positive sentiments and reflections expressed on World Cotton Day to inspire us and propel us forward to be even better in the future than we are today.
I thank all our growers and industry personnel for making the Australian cotton industry the agricultural powerhouse it is, and I wish you all a very happy World Cotton Day.
Adam Kay
CEO, Cotton Australia