What the bunch: Darling Downs farmers find niche market for perfect cotton
What the bunch: Darling Downs farmers find niche market for perfect cotton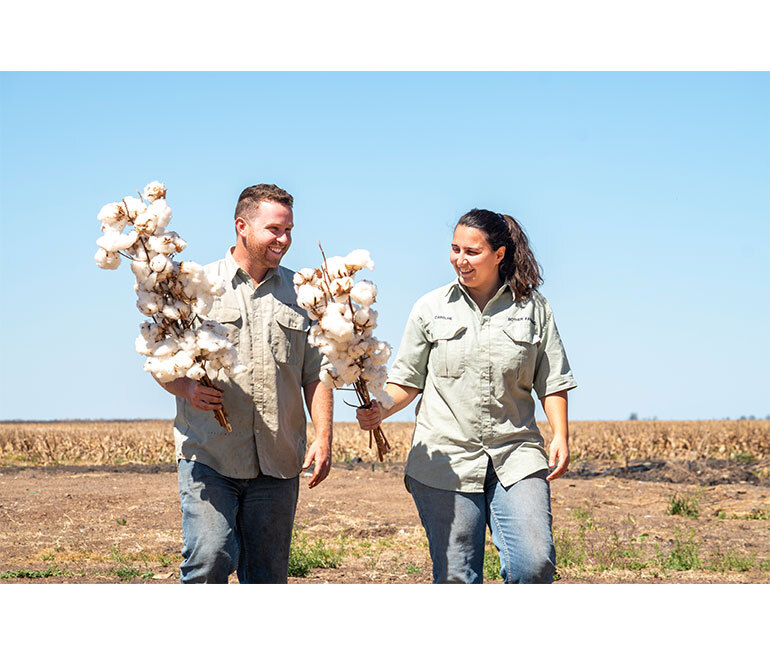 Picking cotton by hand in Australia is far from the normal harvest conventions let alone the corporate world Jamie Rother and his fiance Caroline Azria pictured themselves in.
Jamie, a third-generation farmer, was on track to a career in diplomacy & international trade when he saw an opportunity in cotton for the floral industry.
With the duo envisioning owning their own business, the pathway to owning and operating The Cotton Bunch was born.
"I didn't think I'd be back in the agricultural sector, but I'm glad I am," Jamie said.
Owning their own cotton floral business was initially a side-gig to their Sydney corporate lifestyle, but being back on the farm got the better of them.
Luckily for the couple, Jamie's father is a cotton farmer on the Darling Downs in Queensland, where he grows cotton for the textile market – so finding fluffy white cotton bunches for wholesale florists wasn't a challenge.
What was challenging was picking enough of the crop in a short time frame to pick at the perfect stage.
Caroline, who hails from France, said coronavirus' impact on import and export further opened the window into the niche market.
With more than 60 per cent of flowers imported for wholesale florists, the demand for something to add to table decorations and bouquets was high.
"The wholesale florists were counting on local production, but the growers couldn't keep up with the demands of the flower industry," Caroline said.
Picking bunches of cotton is extremely labour intensive, Jamie said.
They only get "one shot" and any rain dramatically impacts the crop's quality, which is what they want as opposed to yield.
Their unique business creates a long-lasting, no-water required, straight from the farm bouquet.
Not only have Jamie and Caroline supplied Australian grown cotton to wholesale florists, but they have also supplied companies with bunches for decorations – such as popular clothing brand Cotton On.
"Covid has been awful, but for our little business, it happened to be a good thing because we were able to grow our business, that started before Covid, to the next level," Caroline said.
"It looks super cool, and the florists are so creative. Cotton bunches are popping up everywhere in restaurants, bars and at weddings, yet we are aware that these dried flowers trend comes in waves."
The couple is now dedicated in providing a range of flowers to the wholesale flower industry including sunflowers, dried and native flowers.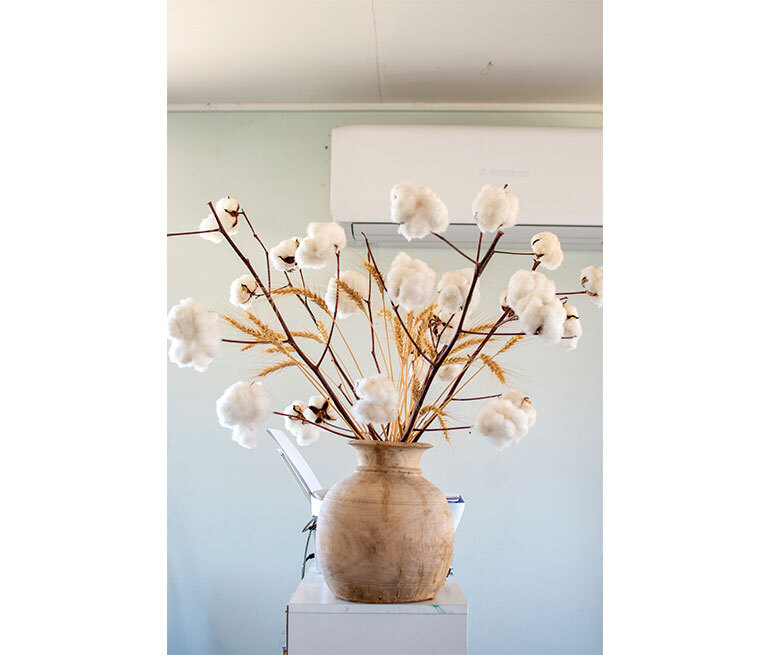 Words and photos by Ali Kuchel