The CRDC Chris Lehmann Young Cotton Achiever of the Year Emma Bond
Gold Coast fashion designer Emma Bond was born and raised on a cotton farm in Nevertire, New South Wales, so using cotton as the fibre of choice came naturally.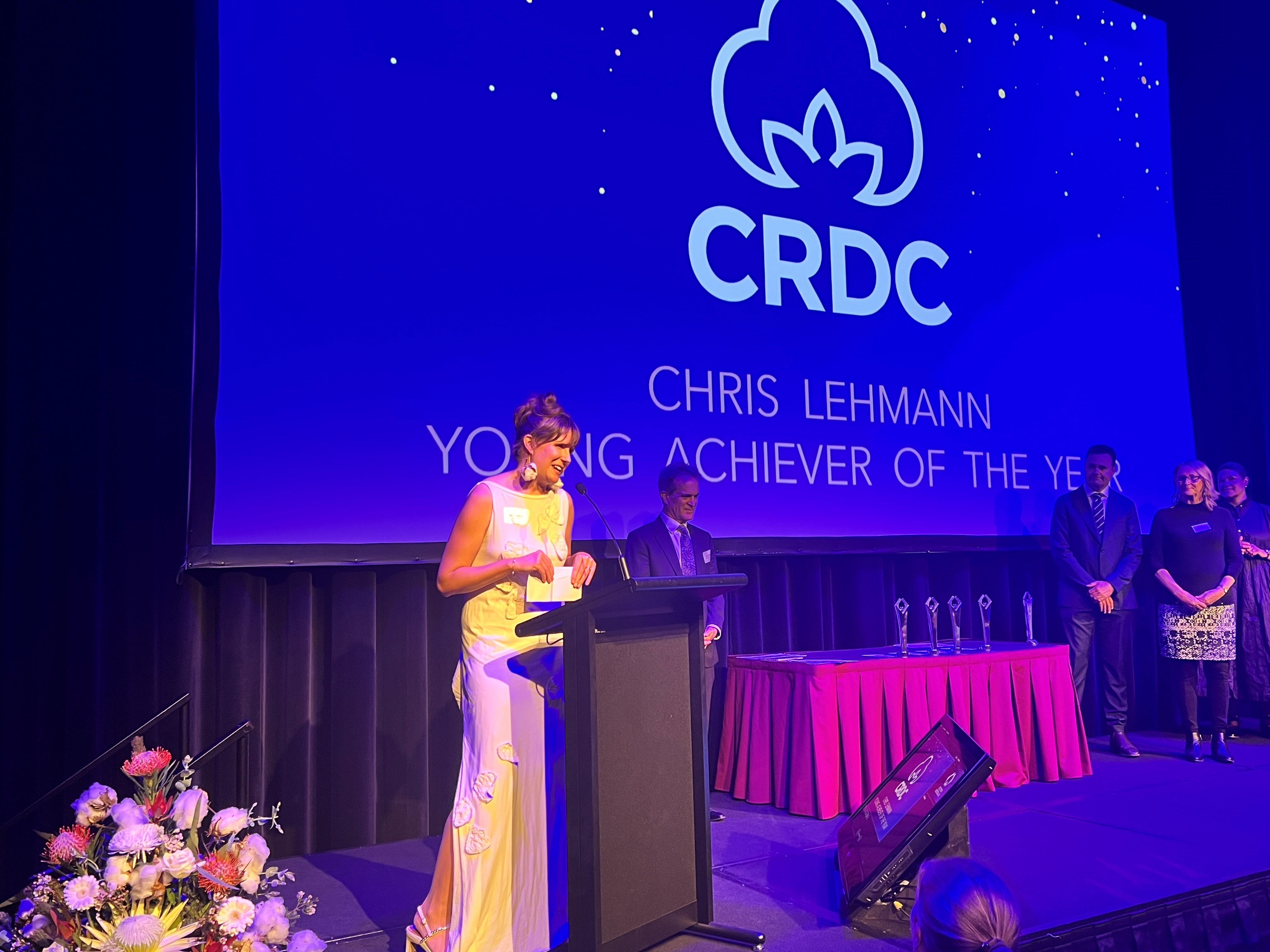 Emma's belief in cotton and her passion for sustainability and circularity, drives her to promote cotton and her cotton designs, highlighting her own fashion label Madi & Pip.
Before moving to the Gold Coast, Emma was living in regional New South Wales which enabled her to study fashion in Sydney during her high school holidays. After attending university Emma began teaching fashion in 2014 and was one of seven designers selected to participate in Queensland University of Technology's Fashion Accelerator program. Emma was also a national finalist in the Melbourne Cup Fashions in the Field for the category of Emerging Designer.
Her passion for cotton and sustainable practices led to Emma being selected to participate in Cotton Australia's 2022 Australian Future Cotton Leaders program.
From the launch of Madi & Pip in 2020 Emma chose to lead with Australian cotton fabrics. It was always her first choice for design, given its quality, the sustainability credentials of Australian cotton, and its local provenance. With lived experience from life on the land – Emma was in a unique position to celebrate Australian cotton and re-humanise the story of how our clothes are made – which starts with the fibre.
For each cotton season Emma has celebrated her own fashion in the fields, taking her designs to where they began and later this year will do it again, sharing a new wedding gown with readers after it is photographed on the property where the cotton was grown, modelled by the growers' daughter.

Emma often donates her time to celebrate and share our Australian cotton story. At the 2022 Cotton Conference Emma spoke about the Australian Fashion by Design Forum while also engaging with senior secondary school teachers, delivering a workshop at the Home Economics Institute of Australia Queensland Conference (HEIAQ) in Brisbane. Emma will again present at the conference in 2023 on fashion circularity and Australian cotton's natural fit within this.
As an enthusiastic ambassador for Australian cotton Emma has taken time to travel across Australia to meet many of our cotton industry representatives so that she can better understand it and share the stories of the great people that make our local industry so good. Emma is having a major impact on the way cotton and cotton fashion is viewed and welcomed. Emma will be conducting live fashion illustrations for six days during EKKA. This will add a new and exciting element to the story of 'field to fibre' and allow the public to investigate their clothing labels to see if they are wearing cotton, which will make them eligible to line up for a free custom illustration as a wonderful treasure to keep.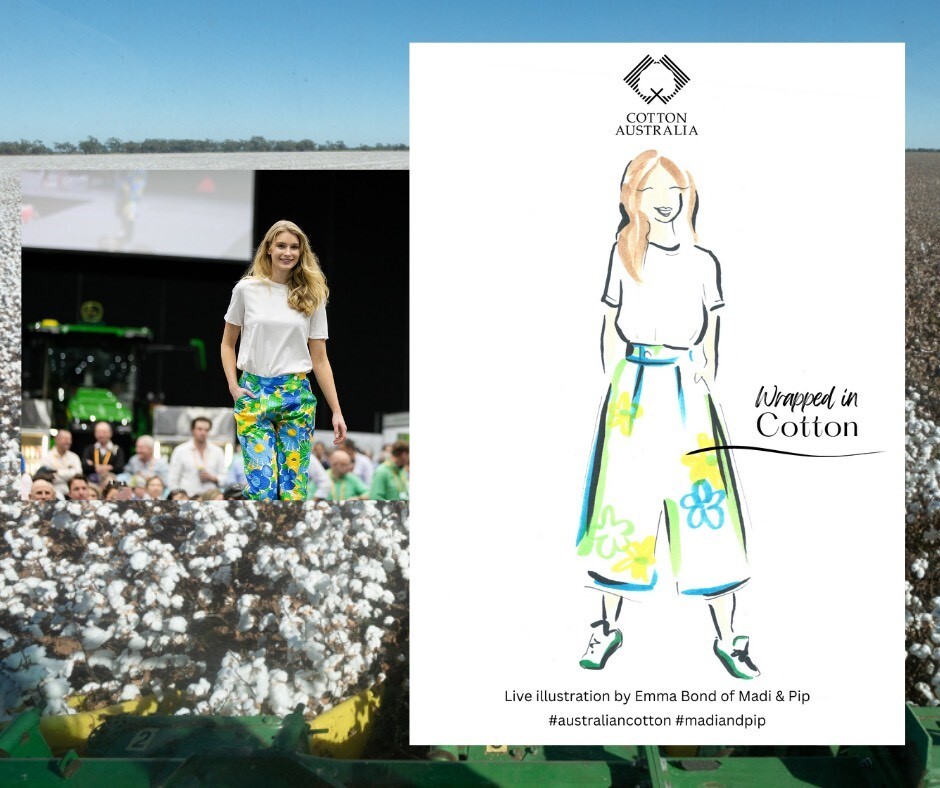 Emma said the Australian cotton industry has shown a genuine interest in fashion circularity & sustainability – as highlighted by their involvement of the Circular Cotton Farming Project.

"The biggest thing we can do to reduce the negative impact of fashion is to keep clothing in use. This message isn't clear to fashion consumers - as fashion brands are reluctant to sell less. However, cotton is the most widely used fibre for fashion, second only to polyester. Cotton will always be in demand – even if consumption should reduce. Australian cotton even more so, given its premium quality and robust sustainability practices and commitment to planet, people & paddock."
Emma has recently travelled to Europe where she visited a spinning mill, spinning the Australian cotton used in her Australian wedding gowns. She also attended the Paris Premiere Vision, run the same week as Paris Fashion Week Haute Couture. Emma is working on curating an exhibition showcasing a circular fashion capsule made from Australian cotton – that invites the audience to connect with those across the entire supply chain and ultimately reconsider how they shop, interact and use fashion.