Register now: emerging leaders virtual 'unconference'
Register now: emerging leaders virtual 'unconference'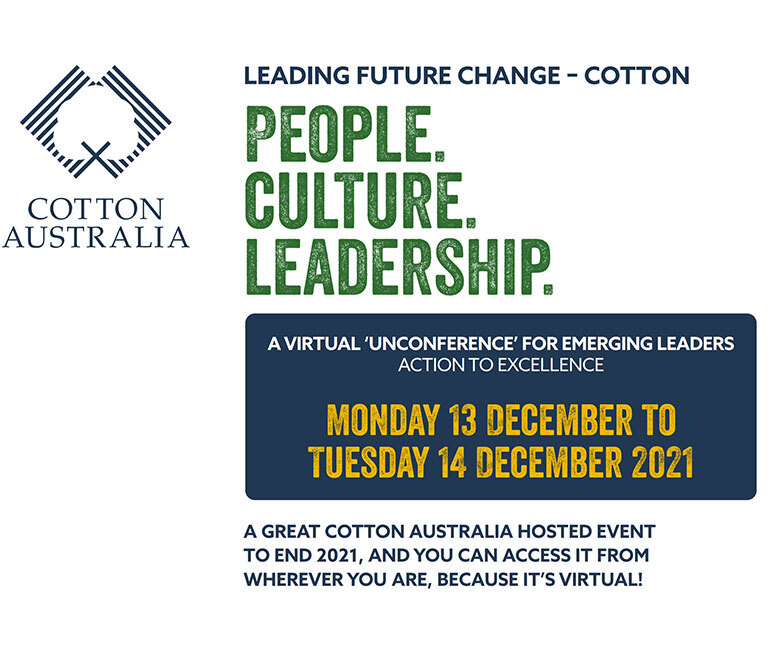 All emerging leaders in our industry are encouraged to register for an exciting online unconference, hosted by Cotton Australia.
An 'unconference' is a participant-driven meeting, and the Leading Future Change – Cotton unconference will be held online over two days from Monday 13th December – Tuesday 14th December 2021.
The event will be a Zoom teleconference, so even if you are on a header or tractor, you can listen in to one or all the discussions on your phone while you work.
Session topics have been chosen by more than 20 emerging leaders from across New South Wales, Queensland and Western Australia, who shared what they think are the most important topics facing the leaders of tomorrow.
Join in the learning sessions, meet others, network, ask questions and hang out in the virtual leadership lounges.
Choose the sessions you would like to attend:
Monday
Panel Session 1: Leadership – Lessons to Build a Better Industry through People
Panel Session 2: Wellbeing: Managing your Stress and Wellness – Especially During Busy Times
Panel Session 3: Teams – Being the best team leader you can resulting in productive happy teams
Sundowner: Cottoning On Around Australia
Tuesday
MasterClass 1 – Managing Teams – How to Set Up for Staff Satisfaction
MasterClass 2 – Communicating when the Stakes are High
Masterclass 3 – Wellbeing – Managing Your Stress and Wellbeing – Especially at Busy Times
Speakers at the event will include: Nigel Burnett - Colorada Cotton/Cotton Australia Chair, Katrina Myers - Barham Avocadoes, Fleur Anderson - Anderson Cotton, Adam Kay - Cotton Australia, Bec Fing - House Paddock Consulting, Steph Schmidt - Act for Ag, Darcy Gorman – Warakirri, Darrin Davies – Cotton Australia, Nicole McDonald – CQ University and more.
Leadership lounges are a key part of this event, so if you like meeting people and having small group informal chats then this is for you!
For more information, or to register your interest, please call, text or email Jo Eady: 0419 912 879, or [email protected].
We look forward to seeing you online at the event!