Crowds roll up to Cotton Australia's stand at the Sydney Easter Royal Show
Crowds roll up to Cotton Australia's stand at the Sydney Easter Royal Show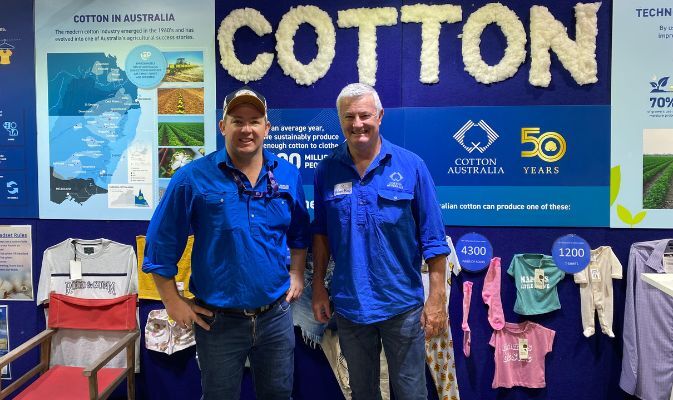 Up to 800,000 people are again expected to attend the Sydney Royal Easter Show where cotton is again taking centre stage in the Woolworths Ag Discovery Pavilion.
Cotton Australia's Education Manager Jenny Hughes secured the pole position in the area, securing the display directly opposite the animal petting farm and alongside the working dairy farm display.
The event provides an amazing opportunity for everyday people to come into contact with cotton and experience life on a cotton farm thanks to the virtual reality technology.
Cotton Australia's CEO Adam Kay and Coleambally grower Joe Briggs joined staff and Ag students on the Cotton Australia stand, greeting everyone with a smile and a friendly word on our world leading fibre.
Joe Briggs, who attended the show to support the CA stand last year, returned for seven days this year and encouraged all growers to consider volunteering next year to help build understanding and knowledge about Australian cotton.
"If you can spare a day or two you will see the appreciation in the faces of the thousands of people you will get to speak with, Joe said.
"Sometimes we can be forgiven for thinking sections of the community are against us – then you come to the show and realise how much people respect what we do and love what we produce."