Cotton the focus of a successful trade delegation to Vietnam
An Australian Cotton Trade Delegation to Vietnam has served to strengthen the relationships between Vietnam's textile manufacturers and Australian cotton producers.
This delegation represents the second in-market visit to Vietnam from the Australian cotton industry in the past 12 months – highlighting the importance of the Vietnam market to Australia; especially in the year that Australia and Vietnam celebrate 50 years of diplomatic relations.
The delegation which included Cotton to Market's Ashley Hollis, enjoyed a series of activities in Ho Chi Minh City, Hue and Hanoi from August 7-11.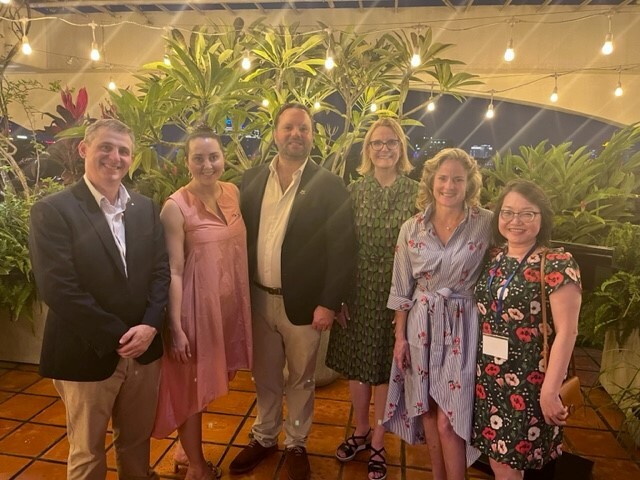 The tour led by ACSA and CA and was supported by the Australian Trade and Investment Commission (Austrade) and included visits to the mills and manufacturers and a series of seminars providing an overview of the Australian cotton industry.
Ashley Hollis, Brand Relations Manager, said it was wonderful hearing from spinners about their love for Australian cotton.
"They love its quality, colour, strength and they love working with it. Also, bringing together a diverse group of brands on the tour has opened valuable conversations and knowledge sharing, particularly around traceability, quality, social and environmental strategies. This is what is driving these brands to shift to Australian cotton. It has been such a rewarding week."
The Australian Cotton trade delegation included representatives of Sportscraft, Struddys, Big W, AS Colour, Modibodi, Workwear Group, New Romantic, Michell Wool and CSIRO.
In 2022, Vietnam was the largest export market for Australian cotton, with a 38.8% market share and Vietnam has emerged as the largest export market for Australian cotton. From 2020 to 2022, Australia's exports of cotton to Vietnam increased from A$78 million to an incredible A$1.69 billion.
Key supply factors include preferred weather conditions, increased national crop, premium quality, proven sustainability track record, competitive prices, and proximity.