Cotton Matters - 3rd June 2022
Cotton Matters - 3rd June 2022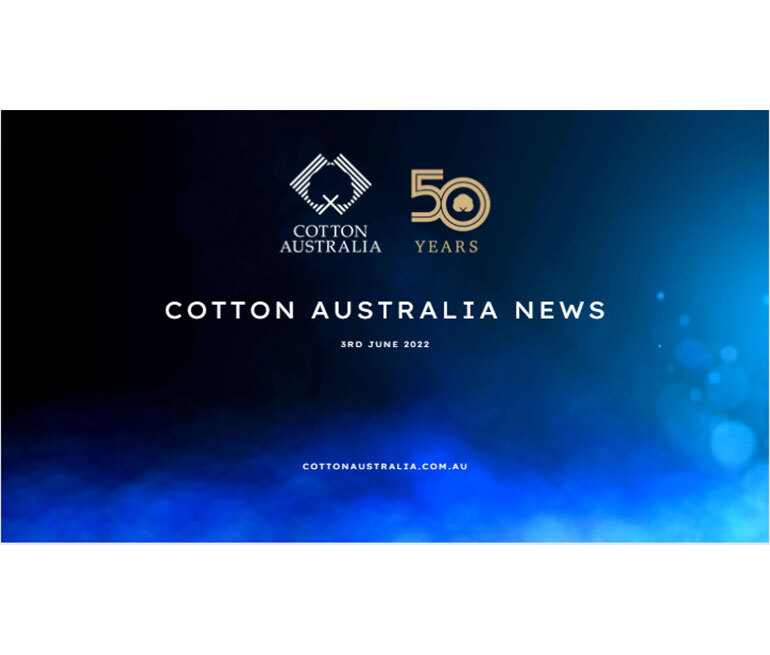 Member representatives gather for Cotton Australia General Meeting

Cotton Australia updated its member representatives on the organisation's progress and achievements at its General Meeting last week.
General Meetings are held twice each year, and in conjunction with our Cotton Australia research priority forums that are used to provide advice to the CRDC.
At the recent Coogee meeting, presentations were given on Cotton Australia's priority areas, including myBMP, water, Cotton to Market, workforce and training, education, stewardship, and communications.
For any grower wanting more information about what was discussed or a copy of the Members Memo, please contact your CGA's Cotton Australia member representative.
Teachers discover Australian cotton through education events
About 100 teachers have received a first-hand insight into the Australian cotton industry during recent farm tour events in Moree, Narrabri, Gunnedah and Griffith.
Cotton Australia, the Lower Namoi Cotton Growers' Association, Gwydir Cotton Growers' Association, Upper Namoi Cotton Growers' Association, and the Southern Valleys Cotton Growers' Association staged the annual Teach the Teacher events last week and this week.
Teachers from primary and secondary schools in the regions joined local industry representatives and growers for an afternoon visiting farms and gins to see first-hand the cotton industry in action. Representatives from regional Department of Education offices also attended, which has led to new connections and opportunities being formed.
Cotton Australia introduced teachers to the adoption of new technology in the cotton industry, the industry's myBMP best practices program, Australian cotton's sustainability targets, how the industry invests in research, and education resources that are available.
Students get taste of cotton jobs at Northwest Regional Careers Expo
Thousands of students have discovered career paths within the Australian cotton industry during a recent expo.
The Northwest Regional Careers Expo was staged in Tamworth last week, with 2,000 students and 80 exhibitors attending.
Cotton Australia's Jenny Hughes and Alec Macintosh were on hand to promote the cotton industry to students and encourage them into one of the sector's many career pathways.
Following the event, Jenny Hughes said, "It was inspiring to have so many students asking about pathways into the cotton industry – from agronomy to engineering and some considering a gap year working on a cotton farm by accessing AgCAREERSTART."
Cotton Australia's 50th Anniversary Events
As part of the ongoing celebration of Cotton Australia's 50th Anniversary we have been invited to present at three events
Queensland Rural Press Club (lunch) in Brisbane on the 23rd June 2022
Queensland Parliament on 23rd June 2022 - 6pm to 8pm (presentation drinks and canapes)
NSW Farm Writers (lunch) in Sydney on the 24th June 2022
We have some extra tickets to each event, so if any levy paying growers are in Brisbane or Sydney on either of those days and would like to attend the functions, please contact us ASAP on [email protected] and we will be in contact with you.
Have your say: Community Perceptions and Worker Experiences' project
Growers and industry personnel are encouraged to share their views as part of a project looking at community perceptions and worker experiences.
AgriFutures is conducting research that aims to further improve workforce attraction and retention in the rural industries, and Cotton Australia and CRDC are providing in-kind support for this project funded by the federal government's AgAttract initiative.
This is essential workforce research to understand and respond to community perceptions and workers' experiences within the agricultural industry.
As part of this project, past, current, and future cotton industry workers are encouraged to complete a short online survey and telephone interview, so researchers can learn about their experiences working in agriculture, fisheries and forestry.
Queensland growers: free workforce planning tools now available
The Queensland Farmers' Federation, which Cotton Australia is a member of, in collaboration with Jobs Queensland have developed a suite of free workforce planning tools.
The tools are aimed at micro, small and medium-sized enterprises in Queensland's agriculture sector.
Workforce Connect comprises a digital toolkit, workbook and supporting fact sheets and templates.
NSW Government announces changes to stamp duty
New laws have passed NSW Parliament that will see stamp duty exemptions extended on the transfer of primary production land to a company or other entity directed by a family member.
Under existing legislation, only a member of the family is exempt from duty tax when buying the land.
The State Revenue and Fines Legislation Amendment (Miscellaneous) Bill 2022 will extend this exemption to family farms that are structured using a trust or company in addition to those owned by individuals.
The transferee would need to maintain control of the entity for a period of at least three years after purchase to ensure the integrity of the exemption.
There are almost 150,000 primary production properties in NSW that may be eligible for this proposed exemption.
Cotton Australia update on disaster assistance
In the wake of natural disasters, the Commonwealth and state governments often provide disaster assistance. Each event is unique and therefore the level and type of disaster assistances (grants or loans) varies from event to event.
In Queensland, since the start of November 2021, there has been at least nine disaster activations, and if you have been adversely impacted by any weather event since then, Cotton Australia advises that you consult the Queensland Recovery Authority website for the full list of activations and the available assistance - www.qra.qld.gov.au .
Following damage assessments by Cotton Australia, the Balonne Shire has now been added to the Shires activated for the $50,000 disaster assistance grants for damage that occurred during the Central, Southern and Western Queensland Rainfall and Flooding, 10 November - 3 December 2021.
Women in cotton: register now for free lunch and learn series
SafeWork NSW in partnership with Essential Energy are running a free lunch and learn series for women involved in the agricultural industry.
The lunches will be held over the coming weeks in Dubbo, Forbes, Griffith, Gunnedah, Moree, Narrabri, Tamworth, Walgett, among other locations.
SafeWork NSW Inspectors and Essential Energy Safety Business Partners will present and provide resources and answer questions about:
Safety while working near the electricity network
Electrical safety
Emergency preparedness and response
Safety around your farm vehicle
At risk workers/contractors

Those in attendance may also be eligible to apply for the following rebate programs:
Small business rebate up to the value of $1000
Quad bike safety improvement program up to the value of $2000
Aerial Marker installation free of charge (conditions apply)
Book now: your Australian Cotton Conference tickets
The Australian Cotton Conference is back in 2022 with a program expected to engage, challenge, and unite our important agricultural industry at time of great opportunity and change.
To be held in person on Queensland's Gold Coast from 16th – 18th August 2022, the program will centre around the theme "Here for Good", and will explore cutting edge cotton science, contributions to the economy and regional communities and resilience in the face of many recent challenges.


Full Cotton Australia levy paying growers can access a discount when they register for the conference. During the registration process, you will be asked to supply a Grower Number – this is any number assigned to the grower by their ginner or merchant.
Read more about the Conference



Applications open: education scholarships for 2022 Australian Cotton Conference
Cotton Australia has opened applications for its scholarship program to the 2022 Australian Cotton Conference.
The conference will be held on the Gold Coast from 16th - 18th August 2022.
Scholarships are on offer in the following categories:
Undergraduate scholarship
Teacher/Educator scholarship
Secondary student program and scholarship
Applications will close at 5pm (AEST) Friday 8th July 2022.
More information and application forms
Opportunity for an experienced irrigator
An opportunity exists for an experienced irrigator to train irrigators in a new development in Central Asia.
The three-week (starting soon) opportunity will have all costs covered and be well remunerated.
If you are interested, email [email protected]