Cotton Classroom
Scholarships information
Scholarships
Cotton Australia sponsors a range of scholarship programs aimed at building the skills and abilities of cotton industry people from potential to established leaders. The programs are reviewed regularly.
Are you a student or teacher who is interested in agriculture and the Australian cotton industry, or know someone who might be? We have some exciting opportunities for senior secondary students, undergraduate students, post-graduate students and teachers with a passion for the cotton industry.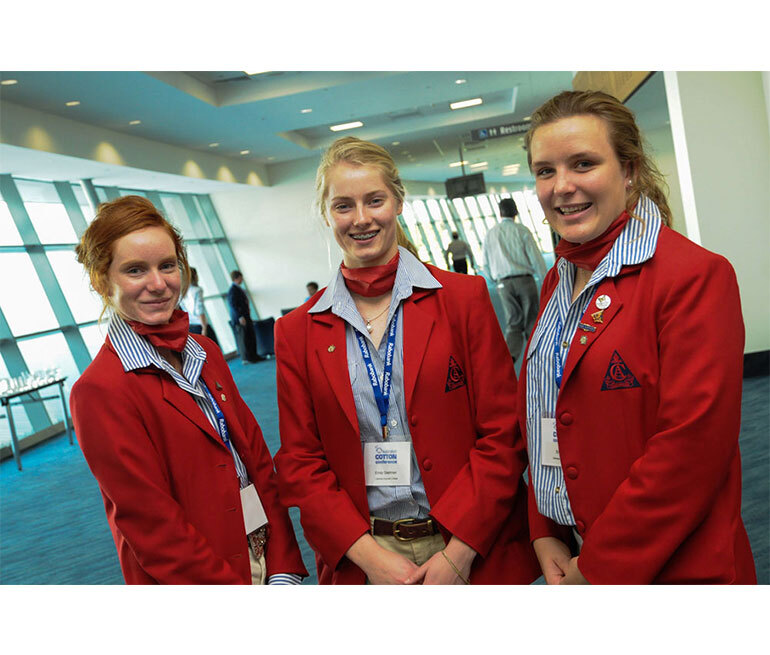 Australian Cotton Conference Scholarship Program
2022 Australian Cotton Conference – "Here for Good"
16th -18th August 2022
Gold Coast Convention & Exhibition Centre
Broadbeach, Queensland, Australia

Cotton Australia is working to ensure the cotton industry's next generation has a solid understanding of the sector through programs to help them attend the biennial Australian Cotton Conference.
The conference is a valuable opportunity to meet key industry personnel, boost knowledge around cotton and build strong pathways for a future in cotton. Students and educators are given exposure to the latest research and innovation to inspire them, and have many opportunities to network and talk to experts in their field.
The event brings together new and experienced farmers, agronomists and researchers, brands and marketers, students and educators, supply chain partners, industry groups and cotton supporters. Together, we explore a huge range of issues, ideas and opportunities from a multitude of standpoints. You will walk away informed, challenged, inspired and motivated to do your bit for the future of the Australian cotton industry.
"I just thought the conference was amazing… it gave me the footsteps into that doorway, to say that, 'Hey, look, you're young, you're a student, you don't have to be from a cotton background, but come on over. Come and look what we do,' so I guess it was just pretty amazing just to have that opportunity." Ella Steinfort, undergraduate scholarship recipient for 2018.
Undergraduate scholarship
Cotton Australia offers scholarships for undergraduate students to attend the Australian Cotton Conference.
The scholarship will pay for the recipient's conference ticket for the full three days of the conference, travel (up to $500), accommodation (if required), and Cotton Awards Dinner (if attending this event).
More information and apply now
Teacher/Educator scholarship
The scholarship is open to all teachers interested in focusing the cotton industry with their school.
The scholarship will pay for the recipient's registration for two days (17-18 August) of the conference, as well as travel (up to $300) and accommodation (if eligible).
More information and apply now
Secondary student program and scholarship
This scholarship will pay for up to four senior secondary students with an accompanying teacher from the one school to attend Day One of the conference (16 August). A total of 20 students will be accepted into this scholarship program and will include registration for one day (16 August).
Cotton Australia and the Australian Cotton Conference Committee will also offer additional discounted registration rates for high school students and their teachers to attend the conference at $75 per person. It is hoped teachers and students will make the most of the discounted rates and register their attendance.
More information and apply now
How to apply

Applications will close at 5pm (AEST) Friday 8 July 2022.
For further information, email our Education Manager, Jenny Hughes - [email protected]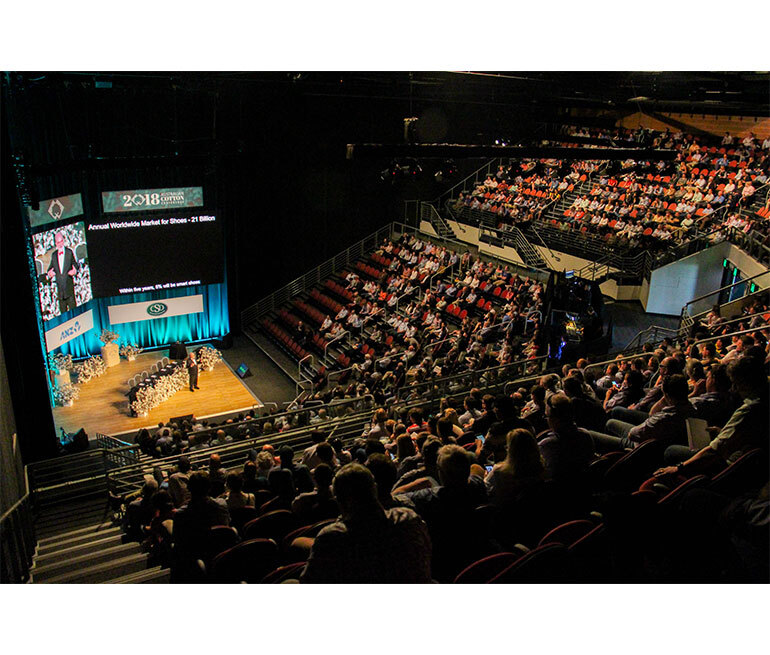 Cotton Australia/Upper Namoi Scholarship Program at University of New England and Charles Sturt University
The Cotton Australia/Upper Namoi CGA Scholarship supports agricultural undergraduate students transition from their university studies to progressive careers in the agricultural industry, and particularly cotton, by assisting them to meet their workplace learning requirements. Successful applicants will complete the practical placement component of their degree on a cotton farm in the Upper Namoi region of NSW, giving them practical experience and networking opportunities.
Preference will be given to students who may come from a metropolitan or a suburban setting without a family farm to pursue their career goals of working in agriculture.
Not sure if this is for you? Hear from an undergraduate student currently in their third year of a Bachelor of Agriculture majoring in general agricultural production and a recipient of one of the Cotton Australia/Upper Namoi scholarships, Madeline Bide, 2022 scholarship recipient:
"Growing up in Sydney I sought out experiences on family friend's small acre farms and always took the opportunity to learn about agriculture on such visits. Receiving the Cotton Australia/Upper Namoi Growers Association Scholarship is an incredible opportunity to open my eyes to an area of agriculture that I am not familiar with."
Despite Madeline having to adapt to remote learning due to COVID-19 lockdowns, through connections with Upper Namoi Cotton Growers' Association, Madeline secured work over the summer holidays on a cotton farm:
"Living on the farm over the last month has been an eye opening and rewarding experience to the daily challenges of farming. When I first arrived planting and irrigation of approx. 4000ha of cotton commenced. We then started to harvest the canola while battling the intermittent rain. Recently the wheat harvest has started but unfortunately the rain has turned majority of the crop into feed wheat. We are currently flooded in and can't access Wee Waa or Narrabri, hopefully the farm will be ok. Working for Auscott has been absolutely amazing so far as Charlie and the team want people to learn and expand on their knowledge of broad acre cropping."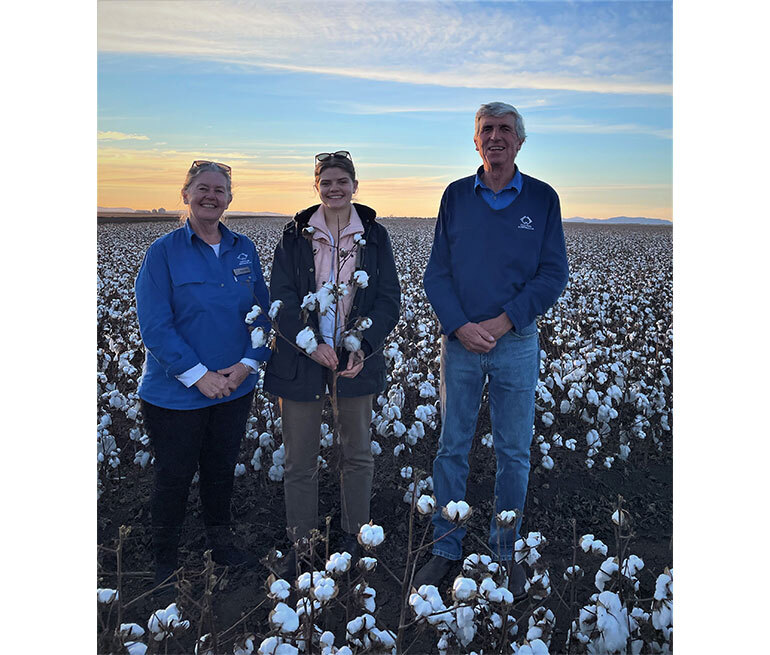 Click here to access a University of New England application.

Click here to access a Charles Sturt University application.
Australian Cotton Research Conference – UNE Armidale Undergraduate Student Travel Bursaries
Cotton Australia supports undergraduate students with a passion for learning and who are interested in exposure to the Australian cotton research community through bursaries to assist with covering the costs of registrations and/or travel to attend the Australian Cotton Research Conference.
The objective of the biennial event is to serve as a platform for cotton researchers to present and discuss concepts, key issues and the latest findings in research relevant to the Australian cotton industry and cotton research community. The conference also encourages networking, collaboration, and a better understanding of the scope of the science performed across the breadth of the cotton industry. The event will include plenary lectures from renowned speakers, research talks within a range of themes, and interactive sessions for debating concepts derived from the talks of that day.