Cotton Matters - 25th March 2022
Cotton Matters - 25th March 2022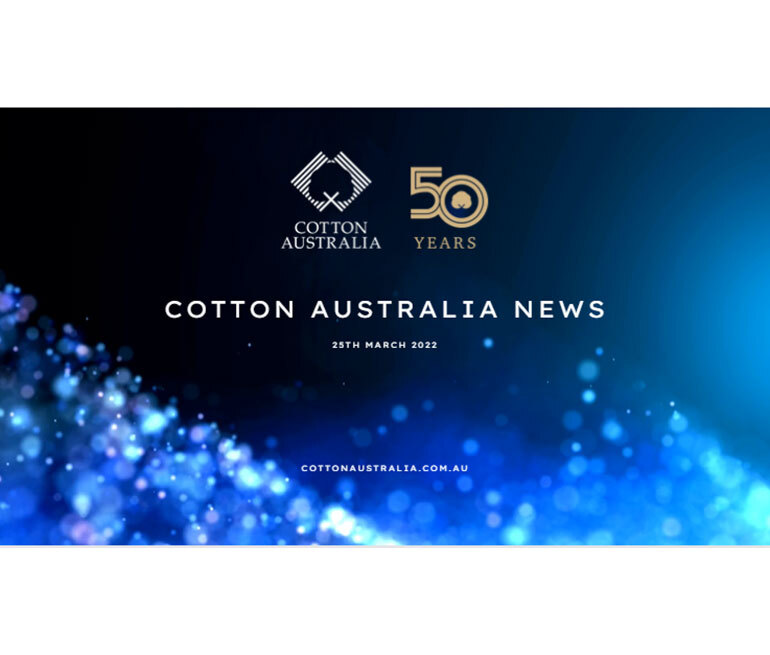 2021 Cotton Grower of the Year and High Achiever of the Year announced

The Australian cotton industry's top performers for 2021 have been announced in front of industry peers at one of the best attended field days in northern New South Wales.
The Bayer Cotton Grower of the Year for 2021 is Quigley Farms at Trangie in the Macquarie Valley. The winner of the AgriRisk High Achiever of the year is Ashley Geldard from Columboola Cotton near Miles in the Western Downs of Queensland.
Cotton Australia CEO Adam Kay joined sponsors Bayer and AgriRisk in congratulating both winners for their achievements.
"The Quigley family and Ashley Geldard both run outstanding cotton operations at different stages of their cotton journey, yet they are united in their commitment to sustainability, in particular efficient water use and soil health. They are exceptionally worthy award winners," Adam said.
Adam Kay meets growers east of Dubbo
Cotton Australia CEO Adam Kay visited growers in the Macquarie Valley recently.
Adam and Cotton Australia's Macquarie Valley regional manager Craig Chandler met with growers and inspected a number of cotton crops grown under centre pivots near Geurie, 30km east of Dubbo.
The growers they met are new to the industry, and have been enjoying a good season, but like many growers and are hoping for an Indian summer to finish off the crops.

Adam also attended the very successful Macquarie Valley Cotton Awards Dinner.
Cotton Australia meets MDBA Chair Sir Angus Houston
Murray-Darling Basin Authority Chairman Sir Angus Houston toured parts of south-west Queensland to 'listen and learn' about water issues last week, with Cotton Australia joining him for part of the journey.
Cotton Australia's General Manager Michael Murray and cotton growers met with Sir Angus and advocated for our industry during his visit to Boggabilla, Goondiwindi, Dirranbandi, St George and Roma.
During the tour, Sir Angus:
Visited a range of farming operations including "Morella" at Boggabilla, Goondiwindi's Woods Group Algae Pharm, "Bullamon Plains" at Thallon, and "Cubbie Station" at Dirranbandi;
Saw environmental watering mechanisms at various locations including Munya Lake;
Met with local government, community and industry leaders to better understand the importance of access to water for economic development in the region and;
Heard more about First Nations values and involvement in water management at some significant sites.
We need your help: Sydney Royal Easter Show
Cotton Australia will have a stand at the Sydney Royal Easter Show this year… but we still need your help.
Thank you to all those who have offered their time so far, but we do need more support on these dates in particular:

9th – 10th April 2022
11th – 14th April 2022 (Easter weekend)
Partners and kids are welcome to help us on the stand, with a key task being to help sanitise and distribute our virtual reality equipment to showgoers.
Your presence on our stand will have a huge impact on our shared mission of advocating for our cotton industry and debunking common myths.
Past volunteers, such as growers Sam Heagney and Nigel Corish, valued their time on our stand, and both were surprised at how little city people know about our industry.

We know it is a busy time of year, but we ask you to please consider helping out your industry by volunteering for 1-2 days on our stand. You will discover for yourself just how rewarding giving some of your valuable time can be to some of the thousands of showgoers that will visit our exhibition.
The Royal Easter Show's dates are from 8th – 19th April 2022.
To book your spot or find out more, please contact Jenny Hughes - [email protected].
Last chance to nominate for 2022 Australian Cotton Industry Awards
Time is running out to nominate for the 2022 Australian Cotton Industry Awards.

The awards, acknowledging the resilience of the industry and innovation throughout the cotton supply chain, were put on hold in 2020 and while nominations were received and judging took place in 2021, COVID prevented growers from coming together and the awards ceremony was put on hold.

Visit our website to submit your nomination in the following categories:

Bayer Grower of the Year
AgriRisk High Achiever of the Year
ADAMA Chris Lehmann Trust Young Cotton Achiever of the Year
Cotton Seed Distributors Researcher of the Year
IPF Service to Industry Award
Nominations close Friday 25th March 2022.

Apply now: 2023 Nuffield Scholarship
Applications are now open for 2023 Nuffield Scholarships.
Cotton Australia is proud to partner with CRDC to sponsor a scholarship for our industry.
With international travel back after the pandemic, Nuffield Australia is seizing the opportunity to send farmers abroad to bring home innovative ideas.
Each scholarship is valued at $30,000 and Nuffield Australia will award up to 20 scholarships this year.
Nuffield Scholarships are open to farmers, fishers and those in associated industries aged between 28-45 years. The bursary allows scholars to spend 14 weeks of travel over two years to study a topic important to the industry.
Nuffield Scholars also receive training in communication skills and personal and professional development.
Your help is needed: having your say on regional wellbeing in cotton regions

All in the cotton industry are encouraged to have their say on wellbeing through a shortened version of the University of Canberra Regional Wellbeing Survey.

In December last year, the Regional Wellbeing Survey was conducted. Unfortunately, the survey arrived at a busy time for many people working in the cotton industry, and we need more people from the cotton industry (growers, employees, contractors) to complete it for the data to be statistically meaningful.

We have prepared a shorter survey (20-30minutes) to make it easier to take participate.
The survey is important because the results and data will inform our industry's sustainability targets for wellbeing. We would appreciate you taking part in the survey so we can better understand how the wellbeing of cotton growers and agricultural workers is changing.

We appreciate your time and the first 100 cotton industry growers and industry members who complete the survey will be given the choice of receiving a $30 gift card.

By having your say, you will be playing your part and contributing to our industry's sustainability reporting for wellbeing.
Applications open for Diversity in Agriculture Leadership Program

The National Farmers' Federation (NFF) has opened applications for its flagship Diversity in Agriculture Leadership Program.
Cotton Australia is a member of NFF and a partner in the program.
The program is designed to increase the representation of women in leadership positions in Australian agriculture and achieve the NFF's goal to double the number of women in agriculture's leadership ranks by 2030.
NFF President Fiona Simson said the organisation was proactively working towards narrowing the gender gap and the Diversity in Agriculture Leadership Program was instrumental in achieving this.
Applications close on April 17th 2022.
QLD growers: rotamarker rebate on offer to improve farm safety
Queensland farmers can now access round two of rebates for the installation of overhead warning markers which indicate powerlines, making their rural workplaces safer.
The Queensland Farmers' Federation (QFF), which Cotton Australia is a member of, has again partnered with Ergon Energy Network and Energex to offer farmers belonging to any of QFF's 21 industry members a 50% co-contribution to install up to 10 Rotamarkers on their properties.