Cotton Matters - 17th June 2022
Cotton Matters - 17th June 2022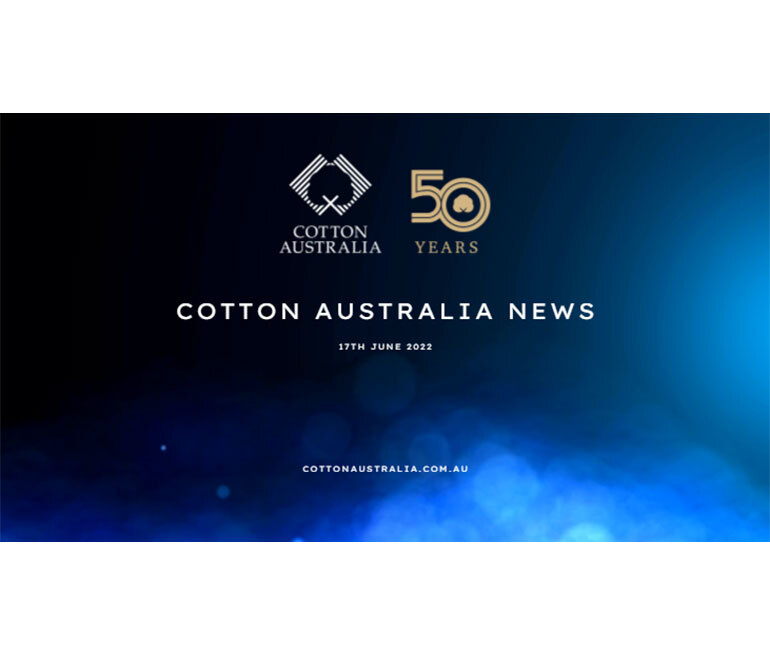 New Agriculture Minister chooses a cotton farm for his first farm visit in Queensland

The Albanese government's newly appointed Agriculture Minister Murray Watt has chosen a cotton farm in Emerald for his first farm visit in his new role.
The Minister travelled to Central Queensland to visit the farm of Ross Burnett who is harvesting more than 1,400 hectares of cotton this year on his property.
Senator Watt met with Cotton Australia Chair Nigel Burnett and CEO Adam Kay, as well as representatives from the National Farmers' Federation and local farmers.
The Minister spoke about the focus on renewable energy and the cost advantages globally that may benefit Australian agriculture.
Senator Watt also acknowledged the importance of overseas workers to ease workforce pressures on the land.
Read Minister Watt's statement
2021 Cotton Young Achiever and Researcher of the Year announced
The 2021 winners of the prestigious Cotton Seed Distributors Researcher of the Year Award and the ADAMA Chris Lehmann Trust Young Cotton Achiever of the Year have been announced at the Crop Consultants Australia dinner in Narrabri.
Taking the honours are Dr Iain Wilson, a research scientist with the CSIRO in Canberra and Emma Ayliffe, an agronomist based near Griffith.
Dr Wilson was awarded for his efforts in innovation, his professional commitment to the industry and the impact he has had and continues to have on the cotton sector.
Emma Ayliffe is an experienced cotton agronomist who recently started her own consulting business Summit Ag Services. Emma has been actively involved in the southern expansion of the cotton industry with a focus on efficiencies and sustainability, backed by on farm research and development. Emma is involved in grassroots projects in compaction and irrigation and manages CRDC projects for whitefly.
Australian Cotton Sustainability Update 2021 released
The latest update on the Australian cotton industry's progress in key sustainability areas has been released.
You can read the full report here, or a two-page summary here.
The report shows continuing improvement in many areas such as water use efficiency, greenhouse gas emissions and insecticide use.
The report also pinpoints parts of the cotton production system not trending in the direction we would like. For example, wetter seasons over the past two years – after a period of severe drought – have seen more weeds in fields and higher use of herbicides to control those weeds.
The Australian cotton industry aims to be as transparent as possible in its progress and impacts.
To this end, a sustainability data pack is being released to provide an additional level of detail for stakeholders wanting it. Data sources, methodologies, definitions, summary pathways and more are all here in one place. The data pack will be updated regularly, providing an accurate source of information throughout the year.


Your help is needed: EKKA 2022
Are you heading to EKKA, the Royal Brisbane Show, or looking for a great reason to go?
Cotton Australia is activating an educational stand at the event with staff manning the stand for the nine days of EKKA.
But we also need growers, agronomists, ginners or shippers to join us on the stand.
Growers involved in the past have found the experience uplifting, rewarding and meaningful. The opportunity for families in the city to connect with a farmer on the stand is invaluable and helps restore trust and appreciation for our industry.
Please consider volunteering for one or two days to help educate about our industry.
To register your interest, or for more information, contact Jenny Hughes: [email protected]
Changes to minimum wage announced
The Fair Work Commission has increased the national minimum wage by 5.2%, and award rates by the greater of $40/week or 4.6%.
The effect of this means that where the weekly wage is less than $869.60 per week, the worker gets a $40/week increase.
Where the wage is greater than $869.60 per week, the worker gets a 4.6% increase.
The changes will take effect from the first pay period after 1st July 2022.
Draft variation determinations will be issued by the Fair Work Commission next week, for review and comment by 5pm next Friday, 24 June 2022.

Season at Saunders social media series wraps up

After 23 episodes, the final Season At Saunders video has been released.
Season At Saunders is a social media video series produced by Cotton Australia and starring growers Craig and Sharon Saunders, and Brooker and Lucas Wuersching, from St George.
The aim was to follow one family throughout the season to showcase how cotton is grown in Australia, and to help educate the public about our industry.
The series attracted a significant following, and reached more than 500,000 people on social media.
Cotton Australia thanks Craig, Sharon, Lucas and Brooke for their involvement in the series and for helping us share the Australian cotton story through this platform.
Watch the entire series on Youtube
Latest global cotton update provided by ICAC
The International Cotton Advisory Committee (ICAC) has released its latest global outlook for June.
ICAC said on a global level, the production and consumption ratios have inverted, causing global consumption to now exceed production by 265,000 tonnes.
Consumption in the 2021/22 season remains unchanged at 26.16 million tonnes and production is now reported at 25.89 million tonnes. Global ending stocks have fallen to 20.34 million tonnes, the lowest in the past 3 seasons.
The 2022/23 season officially begins on 1 August, and ICAC says global area in the 2022/23 season is estimated to decrease by 1% to 32.78 million hectares, largely driven by an 11% decrease in area in the United States, a 5% decrease in Australia, and a 1% decrease in Brazil.
Global production for the 2022/23 season is projected to be 26.13 million tonnes, a 1% increase over the previous season.
Global consumption is currently projected at 26.09 million tonnes - a 0.25% decrease from the previous season.
The international reference price of cotton (Cotlook-A index) continues to remain elevated at near historic levels.
Protect your cotton farm and reduce the risk of electrical incidents with Achmea Australia's Five Steps to Electrical Safety
Some farm activities put growers at a higher risk of electrical accidents.
Farmers are encouraged to set aside time to review their electrical safety and take action to reduce the risk of electrical incidents.
As part of a strategic alliance between Cotton Australia and specialist farm insurer Achmea Australia, please read five steps that may improve electrical safety from Achmea Australia's Keeping Farmers Farming series.
Discover AgCareerSTART
Cotton Australia is proud to partner with the National Farmers' Federation to support AgCareerSTART Farming gap year.
AgCareerSTART is a structured gap year program encouraging young Australian to try a career in agriculture by connecting them to jobs on Australian farms.
Delivered on behalf of the Australian Government, the program matches young career seekers with a host cotton farm where they can work, live and study.
On top of the skills, experience and mentoring you will receive working with your farm-host, you will also be provided FarmSafe's basic safety training and support to complete a VET course relevant to your farm and interests. There will be many opportunities to build your network and access to significant industry events such as the National Farmers' Federation Conference, AgFEST and AgQuip.