Cotton Matters - 10th February 2022
Cotton Matters - 10th February 2022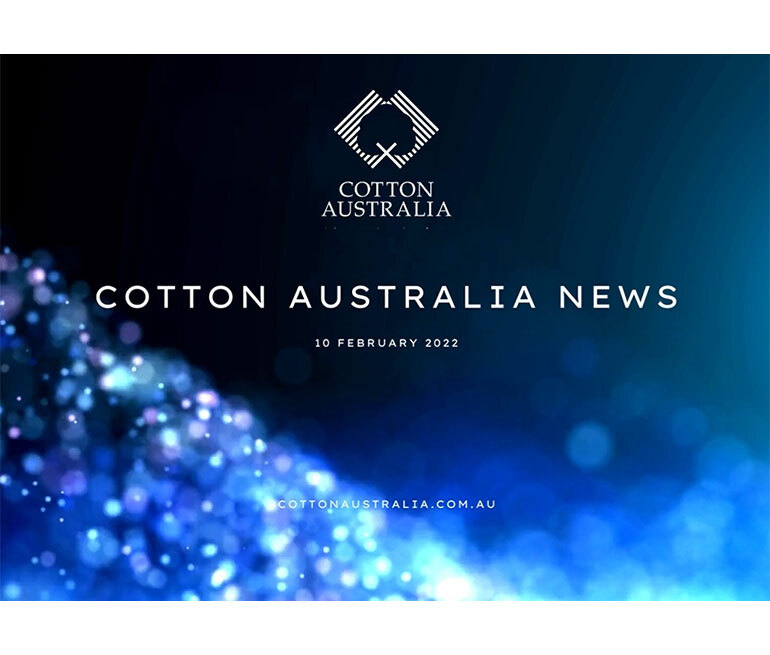 Australian cotton tipped for second best year on record

After years of drought, Cotton Australia is forecasting the industry's second largest crop on record due to favourable conditions across most growing regions.
Cotton Australia CEO Adam Kay said substantial rain late last year and early this year have growers
optimistic, and if good conditions continue, a crop of around 5.2 million bales is possible.
The drought-impacted 2019-20 yield was less than 590,000 bales and that was the worst result in recent history. That was followed last year with a crop of 2.8 million bales.

Cotton Australia joins Queensland regulator in spray drift reminder

Cotton Australia is joining forces with Biosecurity Queensland to remind all farmers to check labels, track weather conditions and apply best practice to minimise spray drift and avoid off-target damage in the 2022 season.
With a bumper season expected due to significant rain and a pending dry period, Cotton Australia is forecasting increased crop spraying activity as farmers commence preparing paddocks for winter crops and control emerging weeds.
Cotton Australia policy officer Paul Sloman said the vast majority of farmers do the right thing to ensure neighbouring crops remain damage free, but best practice must be retained.
2022 AgCareerSTART: still time to register!
Would you like to employ a gap year student on your enterprise, introducing them to the Australian cotton industry while gaining a valuable employee? Cotton Australia is seeking growers to participate in the terrific national initiative: AgCareerSTART.
The first on-farm placements for AgCareerSTART will commence in March 2022, but it's not too late for growers to register and employ a new youngster on your team.
AgCareerSTART is a structured gap-year program that introduces young Australians, school leavers and those under the age of 25 to a career in agriculture.
Matching participating farming businesses with young Australians, the on-farm placements (over a 10-12 month period) provides participants with a paid job, training and development and the opportunity to build networks within the agriculture industry.
Click here to register and for more info
CottonInfo launching new podcast
The Australian cotton industry's extension program, CottonInfo, is launching a new podcast aimed at growers.
The podcast series is currently in development, and will be downloadable through Spotify and Apple Podcasts by searching for 'CottonInfo'.
For a taste of what's to come, listen to the podcast at the link below, where CottonInfo's Brad Pfeffer talks with St George cotton growers Craig Saunders and Lucas Wuersching about their experience with bankless channel irrigation.
Insurance alliance rewards cotton growers for sustainable farming practices
Cotton Australia and farm insurer Achmea Australia (Achmea) are reminding growers of their strategic alliance that recognises cotton growers' contribution to a sustainable future for the Australian cotton industry.
The alliance supports cotton growers through an insurance reward for those who are certified through the Best Management Practices program (myBMP), Cotton Australia's voluntary farm and environmental management program.
Cotton Australia's myBMP program has resulted in widespread interest from across the cotton industry because of the demand for sustainably produced cotton from brands and retailers. Currently premiums of $3 to $5 per bale is generating interest as well the potential for a reduced premium from Achmea.
The insurance reward is a premium discount offered by Achmea for its All-in-One Farm Pack to eligible cotton farmers who are certified through the myBMP program*. To contact Achmea, visit www.achmea.com.au, via email at [email protected] or on 1800 724 214.
*Terms and Conditions apply
Apply now for a job on an Aussie cotton farm
Job seekers are encouraged to visit the Cotton Jobs Australia website to apply for their next career opportunity.
Cotton Jobs Australia connects growers with prospective employees by enabling growers to post jobs they need filling, and then accept applications for those jobs through a simple online form.
The new platform has been developed by Cotton Australia with funding assistance from the Queensland Government.
Growers register to promote jobs here
Go in the running to win prizes by completing the Regional Wellbeing Survey
All in the cotton industry are encouraged to have their say on wellbeing through the Regional Wellbeing Survey.
This survey plays a key role in informing our sustainability targets for wellbeing, so we need everyone in our industry to complete it.
By doing the survey, you will go into the draw to win prizes. All people who complete the survey between January 15th and February 28th 2022 will be able to enter a prize draw for one of seven gift cards worth a total of $3,000 (first prize $1,000, second prize $500, and five runner up prizes of $300).
This will be drawn on March 4th 2022. Winners will have their choice of a Flight Centre, Coles-Myer, WISH, Bunnings, iTunes or Google Play Store gift card, or to donate their winnings to a registered charity of their choice. Prize draw terms and conditions can be found online.
Click here to complete the survey
Register now: Lower Namoi field day
Growers in northern NSW are encouraged to register to attend the Lower Namoi CGA and CSD Field Day to be held on 24th February 2022 at CSD Farms.
The event will include presentations from a range of industry scientists and CSD representatives, and will be followed by drinks and a BBQ.
Attendees will be required to sign in via QR code, and disinfect footwear via a footbath onsite.