Competitors take on farming 'tough mudder' competition
Competitors take on farming 'tough mudder' competition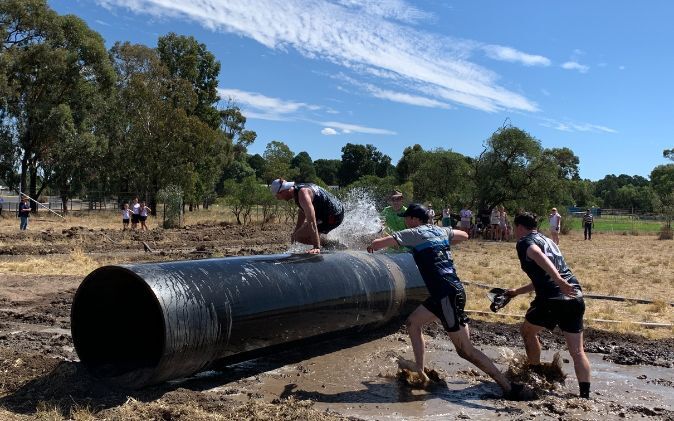 It's the "tough mudder" challenge that mimics life as a farmer, and while some of the 200 participants know all too well the farming lifestyle, for others it was a new concept.

In Coleambally, southern NSW, cotton farmer Joe Briggs rallied his community to host the second Active Farmers Games – a four kilometre course consisting of 18 farming obstacles.
From climbing round bales, carrying syphons, navigating the mud pit or climbing a series of gates, the challenges were tough.
The event attracted almost 200 participants, with some travelling from Sydney and interstate to take part in the event.
Joe, a board member with Active Farmers, said it was an important day for the Coleambally community, as it linked many surrounding and visiting communities together.
"The Active Farmers games mimics challenges we face in everyday life on the farm. Us irrigation farmers end up in mud all the time – hence the popular mud pit obstacle – and the ones that help you out of those situations are workers, mates and family," Joe said.
"It's all about working as a team and finishing the course together. That's how we operate in small communities. Whether someone is struggling financially, with friendships or relationships – we don't need to know the details – we just pitch in and help."
The winning men's team, Concrete Cowboys, which included Coleambally Active Farmers personal trainer Angus Whittaker, completed the course in 28:45, while women's group The Dream Team completed the course in 37:43.
Active Farmers is a not-for-profit organisation that brings together farmers and other locals in small farming communities through regular group fitness in a fun and interactive environment.
Active Farmers is operational in 61 communities across Australia, with that number expected to reach 85 by the end of July thanks to the Hutcheon and Pearce Empowerment Program.
Justin Sampson, CEO of Active Farmers, was at the games and said the second Coleambally Active Farmers Games was a success.
"It's a bit of fun with physical activity and grass roots approach to mental health and wellbeing," Justin said.
"Our presence is continuing to grow. We've got to keep the fundraising going and we've got pockets of growth everywhere. Our trainers are doing an amazing job at being the glue in small rural and remote communities."