Australian cotton industry places itself under the microscope
Australian cotton industry places itself under the microscope
The Australian cotton industry has opened its doors to stakeholders and critics in a genuine attempt at engagement and reflection at an event in Brisbane today.
The 2021 Cotton Open House gave attendees a snapshot on the Australian cotton industry and the opportunity to question growers, researchers, and supply chain representatives about the industry's sustainability achievements and challenges, and provide their perspectives on how our industry is tracking.
Among the 55 attendees at the event, held under COVID-19 capacity restrictions, were growers, industry representatives, environmental groups, and government stakeholders.
Cotton Australia Chair Hamish McIntyre and CEO Adam Kay provided an introductory overview of the industry before Lockyer Valley growers Mitchell, Linton and Alan Brimblecombe shared their story as three generations of cotton growers.
Attendees discovered more about emerging cotton growing regions in northern Australia, with Innot Hot Springs grower Brad Jonsson providing a farmer's perspective on why the region is suitable for the crop, and Queensland Department of Agriculture and Fisheries' Principal Plant Pathologist Dr Linda Smith adding a scientific view on cotton's appropriateness in northern climes.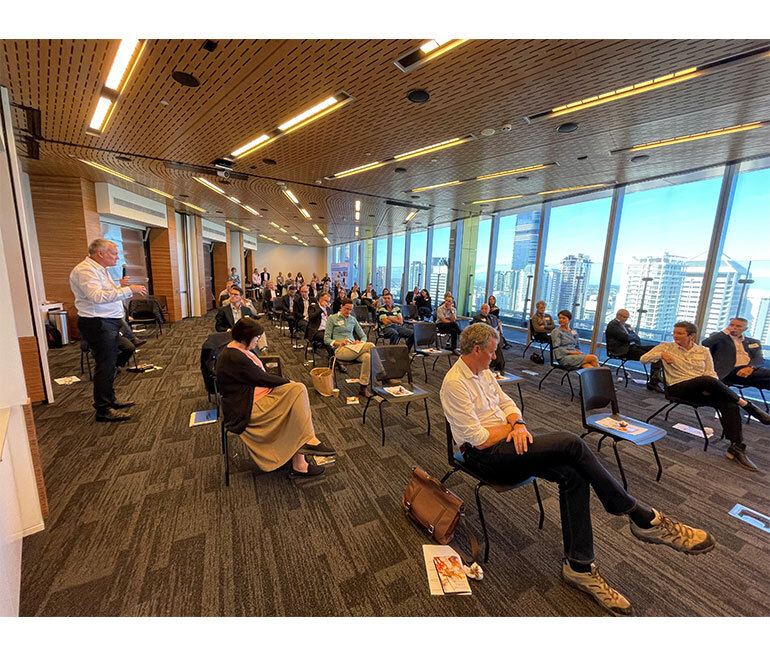 Attendees were then provided insight into the industry's sustainability achievements and the work underway to set targets for future improvement.
With demand for Australian cotton by brands, retailers and consumers continuing to escalate, Cotton Australia's Brooke Summers and Omni Cotton's Cliff White provided insight into what is driving market trends and how export conditions are being managed.
The event ended with an open question-and-answer session, which provided attendees and critics a further opportunity to discover the cotton industry and have their concerns and queries addressed by industry experts.
Throughout the Cotton Open House, attendees engaged in a positive and constructive manner, with many pertinent questions answered and misconceptions and myths corrected and clarified.