A 'lifeblood': why cotton growers care for rivers
A 'lifeblood': why cotton growers care for rivers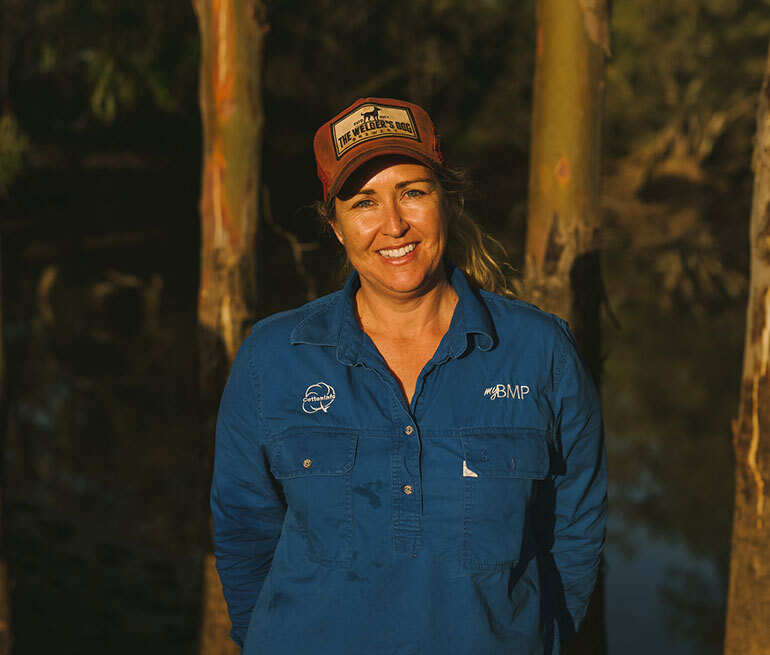 Cotton grower Amanda Thomas can vividly recall the struggles she and other farmers in western New South Wales experienced in recent years.
A severe drought, massive dust storms with plumes of red dirt blanketing everything, and a pervasive mouse plague tested the spirits of those on the land.
"It was pretty soul destroying. It just creeps up on you, and its year after year, not just like a flash that hits you," Amanda said.
"You lose that ability to forward plan and you're not sure where your income's going to come from.
"We're a tight-knit community out here, and it was our social life and our friends, and talking about the shit-ness together, that was what got us through. There was no one exempt from it. It blanketed the community and you just don't know when it's going to end."
Now the rains have come, the rivers are full, and crops are being grown.
But the reminders of the drought and mouse plague remain, with crusty mouse skeletons and red dirt still being cleaned from hard-to-reach places at home.
"It's like history's embedded in our things," Amanda said.
During the drought, the importance of the river for rural communities and farmers was brought into sharp focus.
"It's the lifeblood of our communities," Amanda said.
"Our fortunes rise and fall on that river, and it's probably one of the most important assets that we want to protect."
Amanda has been in the cotton industry for more than 20 years. She and her husband farm cotton and cattle, and also run a trucking arm of their business. Amanda also works in extension within the cotton industry.
"[Being a cotton grower] has ebbs and flows," Amanda said.
"You can be a cotton grower for two years out of 10 … It's just something we do when the water's available, and we don't have the ability to do that when the water is not there.
"The main thing is to make sure the towns and environment get the water first, and then whatever's left over gets divided up between the irrigators and their licences.
"Cotton lends itself to being able to put-on staff long-term; we put on four or five staff, and that's really important to us to be able to keep them on through the drought and through the good times, and cotton in our system allows us to do that."
Ensuring rivers and waterways are healthy is front of mind for cotton growers. And by healthy, that means not just having water in the river, it also means ensuring biodiversity and aquatic life are thriving.
Over the past 15 years, the Macquarie Valley Cotton Growers' Association has worked in conjunction with the local shire and NSW's fisheries department to release fingerlings back into the Macquarie River.
As part of this, research has been conducted into which species to choose and what time of year to release the fingerlings to maximise their survival rate.
"You can see the releases are actually having an impact," Amanda said.
"We know that those fish numbers were greatly affected [during the drought], and we've got to work really hard to provide the habitat, which is just as important.
"You see the difference once you start to take a few steps to actually try and improve that and protect it."
The importance of the river as a natural resource is a sentiment that is shared across all cotton regions.
Amanda has also protected sections of the river next to her property from stock, to reduce river bank erosion and help protect animal and grass species.
While the waterway is important for farming, it is perhaps even more important in bringing people and families together.
"It's a big part of our social life as well, which is what you need when times are tough, or even when you're celebrating – it's always a barbecue out on the river bank and putting some fishing lines in," Amanda said.
"That's how our kids grew up, it's how we grew up, and it's how we hope their kids grow up.
"There's a big portrayal of these big corporate [cotton farms] stealing water… that's just not a thing. It is really disappointing when other stories get promoted and the real story is not that interesting to the media.
"I cannot think of one cotton grower that does not care about the river."
Amanda Thomas spoke to Cotton Australia's 'From The Field' podcast. Listen to her interview below.