Women in cotton on the rise
Women in cotton on the rise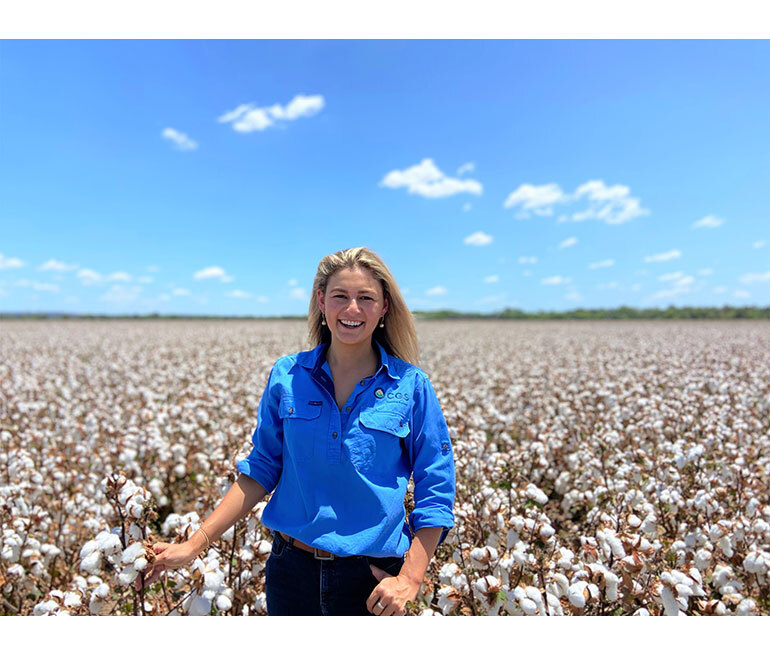 Working in a field inspecting cotton crops is a world away from being an artist in a city. But for Alexandria Galea, she wouldn't have it any other way.
While growing up, Alexandria enjoyed helping her parents grow cotton and grains on their property at Emerald in Queensland, and many thought she would naturally move into an agricultural career after school.
"I actually had big dreams of running away to the city and being an artist," Alexandria said.
"Once I finished high school, off I went down to Brisbane to study art and then move into a teaching degree. I had my heart set on being a teacher and using that as an avenue to work with people and work with the creative industries.
"That was the best time of my life, it was great."
While the bright lights of the big city presented her with opportunities and experiences, a yearning grew within Alexandria to return to the farm.
"Ironically, what I actually came to love and enjoy for myself was actually something that had been put in front of me from a young age, which was agriculture," she said.
"As time went on, I really developed a fondness for it, and I didn't want to go back [to the city].
During her university holidays, Alexandria returned to Emerald and worked with local agronomists and researchers.
"It was just something that was very natural for me, and something that I very much enjoyed," she said.
Alexandria finished her teaching degree, and when job offers came to work in schools, she politely turned them down as her mind was made up: a career in agriculture beckoned.
After taking up a sales agronomist role with Cotton Grower Services, Alexandria began learning the ins-and-outs of agronomy.
Now she works in a management role with the company and spends her days providing agronomic advice, assessing cotton plant health, and working with growers to help them produce the best crop they can with the resources they have available.
"There's lots happening, which makes roles like this really, really rewarding because it's always different, there's always a new challenge, and you just wake up and embrace a new day," Alexandria said.
Women play a significant role in the Australian cotton industry, not just in agronomy jobs like Alexandria's, but also in on-farm positions driving machinery and tending to the crop, and other cotton roles like finance and bookkeeping, marketing, ginning, and fashion.
"I do think that women are paving their way quite strongly through the industry and really building our numbers up across the board," Alexandria said.
"A great proportion of who I work with are women. It's not uncommon for me to drive on farm and see young women wheeling around big machines - they're working side-by-side with men.
"In our area, we see women leading a lot of different businesses; and if they're not leading, they're key support factors. That's what we need – it's working together to achieve something.
"I grew up on a property where I saw my mother and father work together as a team to achieve something, bringing both of their unique sets of skills to achieve their goals and support their family. That's something I see in my role now working with growers."
Along with her role as an agronomist, Alexandria is active in her local Cotton Growers' Association and with the Wincott (Women in Cotton) organisation.
She said the groups were important in bringing people together, fostering connection, and harnessing knowledge sharing.
"In areas like this, connectedness is incredibly important for personal growth and your own education," Alexandria said.
"[I encourage women to] come and give the cotton industry a go. There're so many different career opportunities.
"Anybody that comes here – you don't need to be an expert in what you do; you just need to have a good attitude. Come, give it a go – I don't think you'll be disappointed.
Alexandria Galea spoke to Cotton Australia's 'From The Field' podcast. Listen to her interview below.