Positive outcomes from leading overseas sustainability conferences
Gunnedah cotton grower Scott Morgan, Cotton Australia's Adam Kay, Cotton to Market's Brooke Summers and the CRDC's Allan Williams have returned from the global Better Cotton (BC) Conference and other forums highlighting the quality of Australian cotton.
The BC Conference in Amsterdam attracted 330 people from 34 countries, providing an opportunity for all attendees to address the audience in a variety of settings from round-tables, to on-stage presentations and panel discussions.
Brooke said the conference was a wonderful opportunity to focus on quality data. "Data that measures sustainability impact is a must-have requirement for cotton certifications like myBMP, as well as our customers. This session helped us understand more about what brands need and was also an opportunity to educate them about the complexity and cost of data collection at farm level.
Brooke said the outcome was a much better two-way understanding of what data is required, and why. "The drivers for data collection and analysis are very different at farm and brand levels, and we looked at how to help bring these needs together in ways that satisfy everyone's needs."
The conference explored the most important issues in sustainable cotton production including climate action, traceability and data, sustainable livelihoods, and regenerative agriculture.
Adam took the opportunity at the opening session of the conference to discuss the Australian cotton industry's efforts to mitigate climate change while grower Scott Morgan, a myBMP certified grower who also participates in the Better Cotton Program, took part in a panel discussion sharing his knowledge of climate mitigation and adaptation at his farm including his solar-powered pumps and his involvement in cotton circularity trials.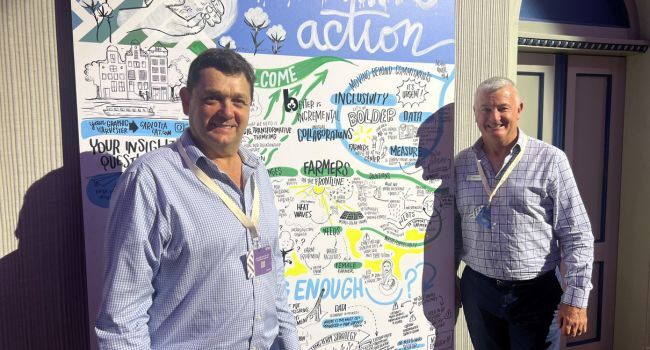 After the BC conference Brooke attended the Global Fashion Summit in Copenhagen which had a huge focus on sustainability under the theme 'Ambition to Action.' The conference was opened by Princess Mary of Denmark.
Brooke was also able to attend the Premiere Vision Show in Paris, an' international hub of interactions, inspiration, know-how, innovation and business.' The venue connects fashion with the best fabrics, fibres and materials to help create a more sustainable fashion from its inception.
The attendance was assisted by the ATMAC program which aims to open, improve and/or maintain access to overseas markets for Australian agricultural products by building stronger relationships with trading partners, neighbouring countries and international organisations.