Get To Know: Alec Macintosh, Regional Manager - Northern NSW
Get To Know: Alec Macintosh, Regional Manager - Northern NSW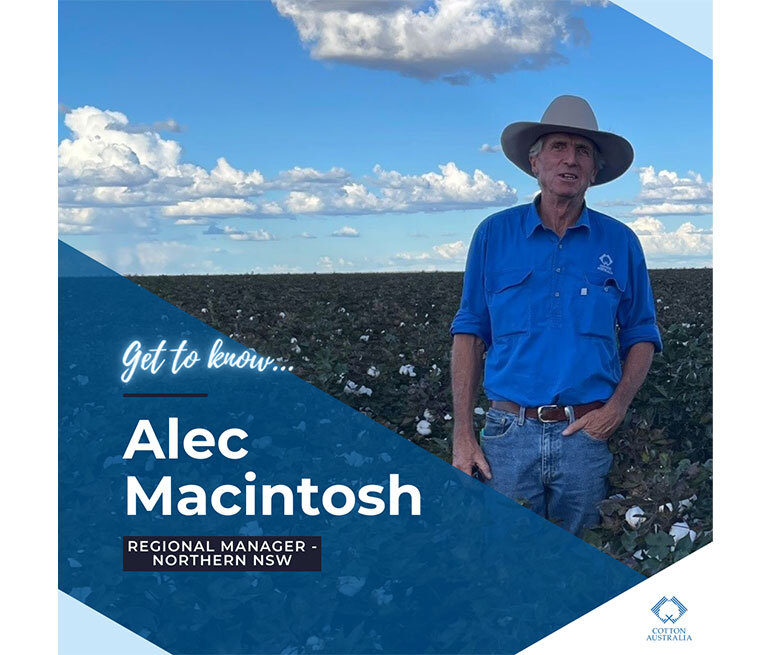 What does your role involve?
We provide information and support to growers relevant to the issues that are affecting them. We engage with local communities through schools, clubs and community organisations to promote and explain how the cotton industry works and is of benefit in their communities.

How and why did you become involved in the Australian cotton industry?
I have been involved in the cotton industry for more than 30 years in various roles, starting out working on cotton farms in uni holidays, through to providing accounting, tax and financial advice to growers; then as the financial controller to a farm machinery manufacturing business and onto financial management and management of farm machinery businesses, supplying cotton equipment to growers.

Why is the cotton industry important to Australia, and your local community?
The industry provides important export dollars to Australia, and in the local area, provides many jobs not only on farm but also to the support industries, including gins, rural supplies, agronomists, scientists, office staff, mechanics, and many other industries in regional areas such as schools, medical, and so on.

What are you most proud of regarding the Australia cotton industry?
The part that has and still excites me about the industry is that it looks outwards and forwards all the time. It does not sit still. Challenges are met head on and all of industry participate in finding solutions, and all of the industry benefits from the solutions achieved.
What are your future hopes for the Australian cotton industry?
Is to see the success that the industry enjoys continue well into the future. The opportunity for young people to build successful careers and continue to carry the industry forward.
If you weren't working in cotton, what job would you be doing?
I would be involved in agriculture somewhere.

What do you like to do in your spare time?
I play some bad golf, and also compete at one-day eventing with horses.

What is your ideal holiday destination and why?
North-west Australia. It is isolated and remote and the scenery is unlike anywhere else in the world.

What is your favourite movie/book?
2 books: The Black Swan by Nassim Taleb and The Art of War by Sun Tzu.

What three famous people would you invite to a dinner party, and why?
Peter Moody , Race Horse Trainer, to understand how he manages to get the best performance from his horses, but also how he manages the owners of the horses.
Bernard Langer, Golfer and how he continues to play at such a high level for so long and still enjoy playing.
Bill Clinton, to understand the American psyche.