Evie Watt wins Dorothea Mackellar Poetry Award with poem about cotton
Evie Watt wins Dorothea Mackellar Poetry Award with poem about cotton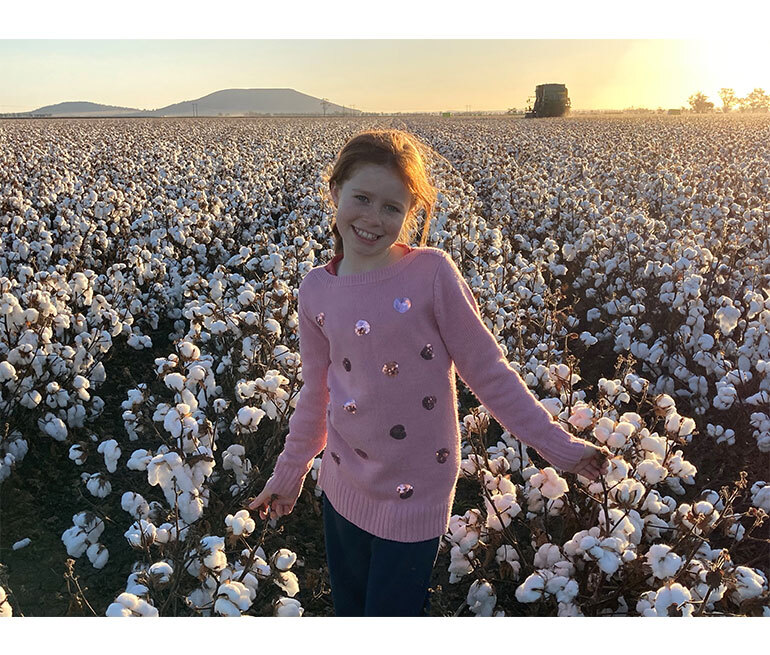 A poem about life on a cotton farm has won a major prize in this year's Dorothea Mackellar Poetry Awards.
Evie Watt, aged eight, wrote the winning poem and is the daughter of Boggabri cotton growers David and Janet Watt.
"My poem was about cotton that we were growing on our farm at the time," Evie said.
"I talk about every step involved when you're growing cotton, all the way to making the clothes.
"It's my favourite crop on the farm … it's just so fluffy and it makes you feel peaceful and happy and it's the thing that makes your clothes."
Evie is in year three at Sacred Heart School in Boggabri and enjoys learning about maths, science and drama.
Evie said she was surprised when told she had won the Kurrumbede Award, which is presented to the best primary and secondary school entry from a school within 100 kilometres of Gunnedah.
"I got taken out of the classroom and went into the office and got told there. I was just so surprised and I didn't expect it," she said.
The Watt family grow a range of crops on their Boggabri properties, including about 100 hectares of cotton.
"We also grow canola, barley, chickpeas, wheat, sorghum, and we also have some cows," Evie said.
"I enjoy that there's so much space [while living on a farm], that you're not confined and you can just go wherever you want."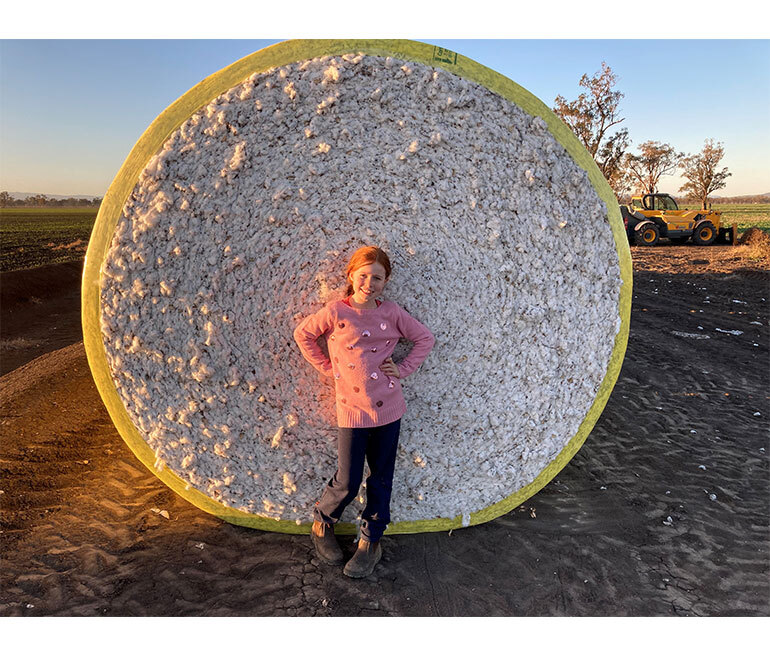 Evie's father, David Watt, said their family was proud of her achievements.
"On the back of drought and the imposition of the fossil fuel industry on our area, it's just great to have a good news story and something positive to focus on," David said.
"It was all Evie's doing – she wanted to write about cotton. I don't really know why she came up with the idea, but that was her idea.
"She's always been a pretty good writer, but she's got a knack for performing, so it's not a real surprise, I suppose, that she's done so well.
"Only being in year three and aged eight-years-old, I think that's a pretty special achievement as well, particularly going up against all the year four, five and six classes.
David said he hoped the broader public would learn about the cotton industry by reading his daughter's poem.
"I'd like them to realise that cotton isn't the demon that it's made out to be," he said.
"Cotton is another crop; it's an irrigated crop, but we choose to grow it because it's a good crop to grow and it's a profitable crop to grow.
"It would be good if this highlights that what we hear about cotton is not true."
Words by Robert Virtue
Cotton - by Evie Watt
Fluffy like soft clouds in the sky,
Bright white like cold snow,
on our farm at Boggabri
Cotton is what we grow.
--
It all starts with a tiny seed
as small as a single green pea
With fertiliser we will feed
It has a lot to grow, you would agree.
--
The seed turns into a little cotton shoot
It is like a baby... it has lots to grow
Hopefully not to get trod on by a boot
While the crop is still very low
--
The plant grows bigger into a bush
With lots of leaves and pinkish white flowers
The wind gives the flower a little push
Then out comes the bolls in hours
--
The green bolls dry and burst
Showing the fluffy white cotton
I think this paddock will be picked first
As the leaves fall to the ground, rotten
--
Vroom, Vroom the pickers come in
gobble up the cotton fluff,
then throw it in the picker bin
and roll it tight and tough.
--
This cotton could one day be many things
Pyjamas, t-shirts, jeans and bed sheets
It is amazing how a plant brings stuff to us.
Next summer it all repeats!
--
Cotton is my favourite crop on the farm
The fields of fluffy white cotton balls
Make me feel peaceful and calm
Like rain when it finally falls.