Cotton returns to Brisbane Valley for the first time in 60 years
Cotton returns to Brisbane Valley for the first time in 60 years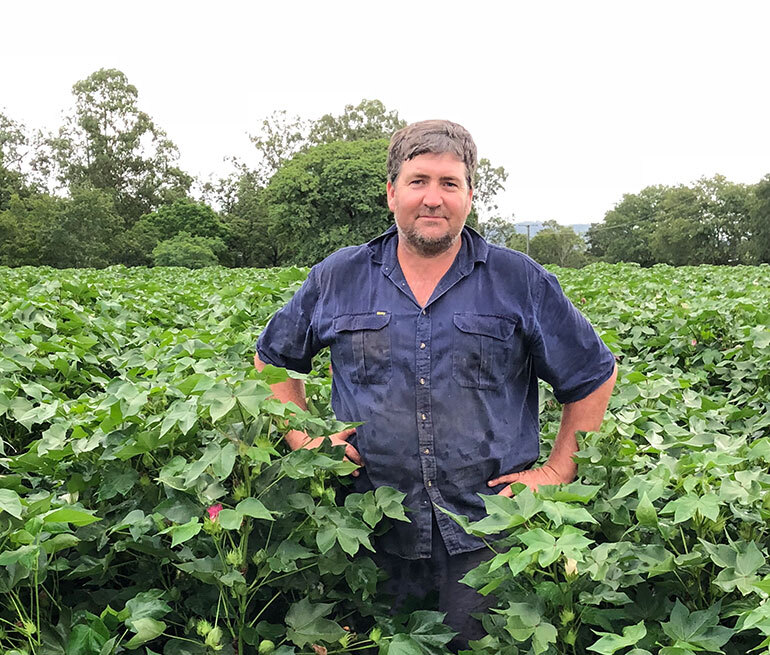 A mixed operations farmer from Queensland's Brisbane Valley has grown a cotton crop this season in what's believed to be a first for the region in 60 years.
Mark Cowley is a third-generation farmer at Toogoolawah. His grandfather used to grow cotton back in the 1940-50s before the family moved into dairying and pigs.
When the economic effects of deregulation began to bite in 2003, the Cowley's stopped dairying.
Since then, Mark has grown a range of crops, particularly pumpkins and peanuts, and farmed livestock.
"We've always had a livestock footprint and the family has always had cattle," Mark said.
"Five or six years ago we introduced pigs back into the place – free-range pigs working on rotation across our operation. We also try and grow a bit of stuff that puts back in to the soil – we grow a lot of pumpkin, peanuts, we used to make a lot of hay."
The Cowley's mixed farming enterprise is about 1,200 hectares in size, with different members of the family running properties that form the operation.
"My dad runs part of it, my uncle and cousins run bits of it too," Mark said.
Cotton's connection with the Brisbane Valley stretches back to at least 1870, when one of the earliest gins was built at Ipswich.
But after decades without cotton being grown in the valley, Mark decided this season was the right time to have a go at growing the crop.
"The climate of the valley suited cotton - I wanted to grow a crop that could handle the hot and dry," he said.
"Corn's really not an option, it's too expensive to grow for the return; peanuts are the same – they've got too expensive and were no longer an option for us.
"So, I was looking to try something else - we needed something stable and reliable as far as returns are concerned.
"I'd spent a lot of hours on a cotton picker through the dry years here at home - I went out with a contractor and have been involved in planting, fertilising, picking and it was enough to get me interested in it.
"It got the better of me this year and I just did it."
Mark planted a small 14-hectare irrigated crop, which has grown well. He will pick the crop at the end of April.
He said he had learned a lot through the season to date and had already identified things to improve for next season.
"I'll incorporate cotton into our operation as a rotational crop - I think cotton has a pretty important place in a rotation," he said.
"We'll continue to grow a heap of different things, but it'll be on a rotational basis."
Mark said CSD and Cotton Grower Service Dalby had been very helpful in advising him on how to succeed in growing a crop and to understand the ins-and-outs of cotton production.
He encouraged others thinking of diversifying their operation to consider cotton.
"[If you think of the] horror stories of cotton from 30-40 years ago … technology has changed and things have moved on. It's certainly a lot better place to be," he said.
"Don't be scared of it; if you want to have a crack at it, have a go."