Cotton Matters - 28th January 2022
Cotton Matters - 28th January 2022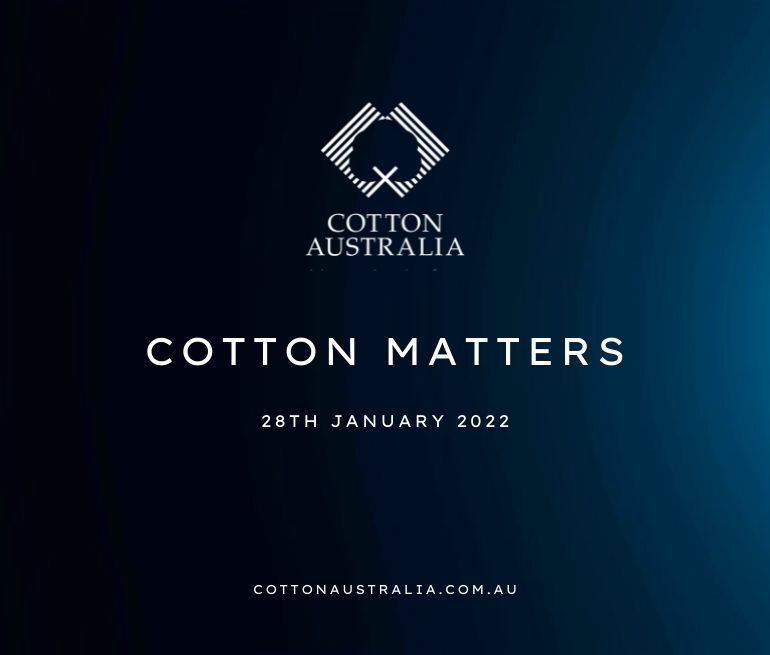 Potential 'game-changers' chosen for cotton industry's 2022 emerging leaders program
Australia's cotton industry has selected 15 of the country's most outstanding, up and coming cotton stakeholders for its premier entry-level leadership program.
Eight women and seven men from across NSW, Queensland and the ACT will participate in the 2022 Australian Future Cotton Leaders Program (AFCLP), which is run by Cotton Australia with support from the Cotton Research and Development Corporation (CRDC).
The program aims to develop their leadership knowledge, skills and experience so that they, in turn, can play key roles in further developing the industry.

Vale: David Montgomery
Well-known Australian cotton industry figure David Montgomery passed away this week.
Cotton Australia offers its condolences to Mr Montgomery's family and friends, and acknowledges his significant contribution to the Australian cotton industry.
Mr Montgomery emigrated from Ireland in 1962, and in the late 1970s, he made his first foray in cotton with a small irrigation block near Pallamallawa, NSW. Over the next 30 years, he went on to expand his cotton growing operations to Emerald, the Darling Downs, and the Murrumbidgee.
David was also instrumental in establishing the Dunavant ginning and marketing business in Australia, of which he was the CEO for many years.

His involvement in cotton industry bodies was extensive, and included time being Chairman of the Australian Cotton Shippers Association, a Cotton Australia director, and Chairman and Deputy Chairman of the Australian Cotton Industry Council (ACIC).

David's contribution was driven by a desire to achieve the greater good and he dedicated more than 50 years to the agricultural industry, and 40 years to the Australian cotton industry.
The Australian cotton industry has been significantly and positively advanced through David's involvement at all levels, and in 2018 he was recognised with the Service to Industry award at the Australian Cotton Industry Awards.
Vale, David Montgomery.


Best and Less launches new Aussie cotton tees in time for Australia Day
Clothing brand Best and Less has launched its first Australian Cotton tee, featuring a koala on the front.
The t-shirt is just the beginning for Best and Less, who has partnered with Cotton Australia to use premium, sustainably grown, natural fibres in their raw materials portfolio.
Cotton Australia's Cotton to Market Supply Chain Consultant Brooke Summers said it was exciting to have Best and Less as a brand partner.

Students learn about cotton through education program

Cotton Australia was proud to recently support a program helping students working towards science careers in agriculture.
The University of New England's Growing Regional and Agricultural Students in Science (UNE GRASS) program develops and delivers educational initiatives that inspire students towards science careers, and helps create high-calibre science graduates who are business-ready.
The program includes an Industry Placement Scholarship that showcases to Years 11 and 12 students the broad range of exciting careers supporting the primary industries. Students attend a camp and five-day industry placement, and then report back on the scholarship experience. The industry placement provides an opportunity for scholarship students to participate in and discover the work and careers in an agricultural sector, and to complete activities beyond what can be offered at school.
Cotton Australia's involvement in the program involved supporting and providing joint funding for the Five Day Industry Placement through the Gwydir Valley CGA, Gwydir Valley Irrigators Association, Lower Namoi CGA and Upper Namoi CGA.
This year, the Gwydir, Upper Namoi and Lower Namoi all had one student take part in their respective valleys.
Cotton Australia's northern New South Wales regional manager, Alec Macintosh, gave the students an insight into the cotton industry by explaining the activities of Cotton Australia, and organised visits to the Cotton Research and Development Corporation, the Australian Cotton Research Institute and Cotton Seed Distributors.


Cotton Jobs Australia working to solve cotton workforce shortage
Cotton Australia continues to encourage growers to use the new Cotton Jobs Australia service to post ads for jobs they need filling this season.
Job seekers are also encouraged to visit the website to apply for their next career opportunity.
Cotton Jobs Australia connects growers with prospective employees by enabling them to post jobs they need filling, and then accept applications for those jobs through a simple online form.
The new platform has been developed by Cotton Australia with funding assistance from the Queensland Government.

Growers: be spray aware this season

All cotton growers are encouraged to play their part in preventing off-target spray drift damage by mapping their fields in SataCrop this season.
SataCrop is an all-of-agriculture online mapping platform for growers to use. Growers simply log-on to SataCrop and map their fields over satellite imagery. Crops are colour coded, which helps inform other growers about where sensitive crops are planted when planning their spraying activities.
If you have used SataCrop previously, all you need to do this season is re-colour code your fields, depending on what you have planted where.
SataCrop can be used to map all crop types, and growers can change the crop type within fields to reflect the different planting seasons.
It is vitally important growers do all they can to prevent off-target spray drift from occurring, and by using SataCrop, you'll be doing your bit to help yourself and your neighbours not be impacted by off-target spray drift.
A new addition to the platform this year is enhanced functionality to allow apiarists to map their hive locations. Growers will be alerted if they are within 10km of the hive location.
By sharing knowledge and being transparent about what crops are planted where, we can collectively help address this issue and ensure our crops remain healthy.
Other spray drift mitigation advice for growers includes:
Reading and following spray label instructions. Ensuring you are up to date with the APVMA label changes to 2,4-D products.


Check the current and forecast conditions before spraying. Do not spray when there is a surface temperature inversion.
Watch this video to discover how to add and modify fields in SataCrop
Go in the running to win prizes by completing the Regional Wellbeing Survey
All in the cotton industry are encouraged to have their say on wellbeing through the Regional Wellbeing Survey.
This survey plays a key role in informing our sustainability targets for wellbeing, so we need everyone in our industry to complete it.
By doing the survey, you will go into the draw to win prizes. All people who complete the survey between January 15th and February 28th 2022 will be able to enter a prize draw for one of seven gift cards worth a total of $3,000 (first prize $1,000, second prize $500, and five runner up prizes of $300). This will be drawn on March 4th 2022. Winners will have their choice of a Flight Centre, Coles-Myer, WISH, Bunnings, iTunes or Google Play Store gift card, or to donate their winnings to a registered charity of their choice. Prize draw terms and conditions can be found online.
Click here to complete the survey


Growers: have your say on electricity tariffs
The Queensland Farmers' Federation (QFF), which Cotton Australia is a member of, the University of Queensland and Energy Consumers Australia is offering Queensland and New South Wales farmers the chance to win one of two $500 discounts off their energy bills for participating in an electricity tariff research study.
Complete a confidential 30-minute phone or Zoom interview with researchers from the University of Queensland to receive a $40 gift card, with those involved by May 31st 2022 going into the draw for the $500 discount.
Complete the Expression of Interest form here
Share your views on mining land access negotiation costs
The Centre for International Economics (CIE), on behalf of the Department of Regional NSW's Mining, Exploration and Geoscience, is currently undertaking a review of the cost caps for negotiation, mediation and arbitration of land access arrangements.
It comes as the Department progresses a range of reforms which aim to support the responsible development of the state's mineral resources to help position NSW to become Australia's premier destination for exploration and mining investment.
The aim of the CIE's survey is to gather information on the costs incurred during the negotiation, mediation and arbitration of land access arrangements.
Impacted growers are encouraged to share their views today by completing the short 10-minute survey.
Central West and Southern NSW cotton growers wanted for input on BOM forecasting tool
Are you a cotton grower who is interested in helping to shape a new national digital climate and forecasting tool with the BOM and CSIRO?
The Climate Services for Agriculture project - funded by the Department of Agriculture, Water and the Environment through the Future Drought Fund - will enable farmers to recognise locally relevant climate trends and conditions that have, or may in the future, impact the way you operate and make decisions on-farm.
You can take a look at the tool here.
The project is seeking cotton growers and mixed farmers who are willing to take part in a one-hour interview with the project team via video call, at a time and date that suits you. By doing so, you will be providing input into your industry's requirements for forecasting and climate information. If you would like to have your say, or to register for future involvement, please contact Sarah Clarry on 0419 165 771 or [email protected]
Consider applying for a Churchill Fellowship today
A series of information sessions will soon be held for anyone interested in applying for a Churchill Fellowship.
The Winston Churchill Trust is planning to fund around 100 fellowships for people from diverse walks of life so they can explore international best practice and innovation in a field of their choosing.
The Fellowship is a non-academic program and no specific qualifications are required to apply. As Churchill Fellows, the recipients will receive an average of $28,000 each and support from the Trust to explore international best practice and innovations in a field of their choosing during 2023.
A series of virtual information sessions based around specific themes is being held to inspire project ideas and guide people through the application process.
Each session will feature existing Churchill Fellows sharing their experiences, and live Q&As. Two sessions in particular will focus on primary industries:
Tuesday, February 1 – 5 pm to 5.50 pm (AEDT)
Monday February 21 – 12.30 pm to 1.20 pm (AEDT)