Cotton Matters - 15th July 2022
Cotton Matters - 15th July 2022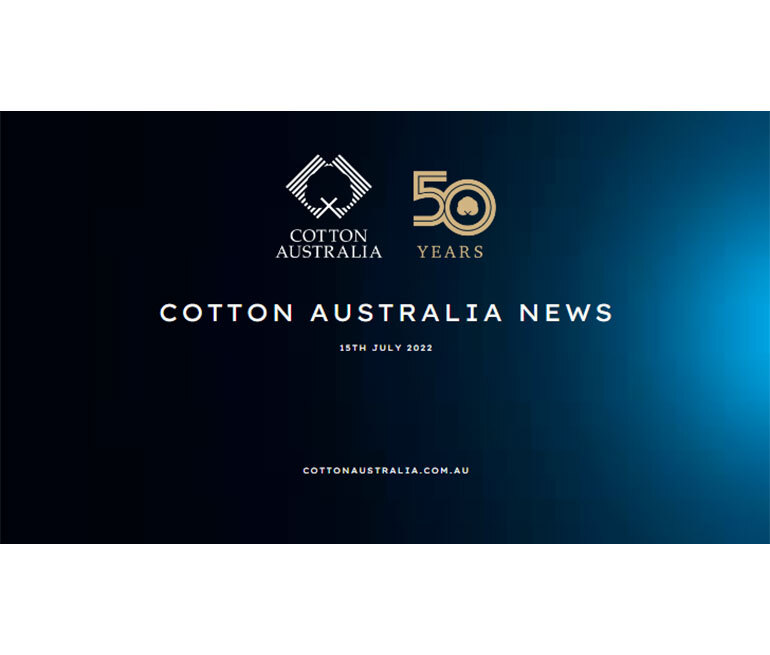 Finalists announced in 2022 Australian Cotton Industry Awards

The finalists have been announced for the Australian cotton industry's most prestigious awards in 2022 with entrants from New South Wales, Queensland and the Northern Territory in the running.
Cotton Australia CEO Adam Kay said nominations were opened earlier this year and the response has been outstanding.
"Each year we have been impressed with the calibre of nominees and this year is no exception, presenting a challenge for judges in making their selections," he said.
The Awards finalists are as follows:
Bayer Grower of the Year:
Corish Farms "Yattlewondi" - Glen Harney Manager, Talwood QLD
Sundown Pastoral Co "Keytah" Nick Gillingham Manager, Moree NSW
Graincott Farming Co "Kensington Park" Dan Hayllor, Dalby QLD
AgriRisk High Achiever Award:
"Tipperary Station" Bruce Connolly, Katherine NT
Porter Farming "Attleigh" Grant Porter, Brookstead QLD
Dalara Pastoral Operations "Myall Park" Rob Davies, Blackville NSW
ADAMA Chris Lehmann Trust Young Achiever of The Year:
Lucas Wuersching, St George QLD
Bradley Donald, Moree NSW
Jessica Strauch, Goondiwinwi QLD
Cotton Seed Distributors Researcher of the Year are:
Cotton Landcare Tech Innovations project team - Stacey Vogel
Dr. Mick Rose
Dr. Oliver Knox
The judges will now review all nominations before finalising the winners, who will be announced at the Awards dinner held in conjunction with the Cotton Conference.

Transparency the Focus in Australian Cotton Sustainability Update

The Australian cotton industry has underlined its commitment to transparency and accountability by unveiling for the first time an innovative sustainability 'Data Pack' to support its latest cotton sustainability report.
The recently released Australian Cotton Sustainability Update (2021) shows a 3.6 per cent annual improvement in Australian cotton water use efficiency and a 6 per cent reduction in greenhouse gas emissions per bale, but also an increase in herbicide use as a result of a wetter season increasing the need for weed control.
Countdown on to 2022 Australian Cotton Conference
The Australian Cotton Conference is fast approaching, with a program expected to engage, challenge, and unite our important agricultural industry at time of great opportunity and change.
The event will be held on Queensland's Gold Coast from 16th – 18th August 2022.
The program will centre around the theme "Here for Good", and will explore cutting edge cotton science, contributions to the economy and regional communities and resilience in the face of many recent challenges.

Full Cotton Australia levy paying growers can access a discount when they register for the conference. During the registration process, you will be asked to supply a Grower Number – this is any number assigned to the grower by their ginner or merchant.
Book your Conference tickets

Discover the Conference program


Latest global cotton update provided by ICAC

The International Cotton Advisory Committee (ICAC) has released its latest global outlook for July.
ICAC said on a global level, consumption (26.15 million tonnes) is still expected to exceed production (25.91 million tonnes).
Australia's forecast has been revised upward slightly, adding 119,000 tonnes to the 2021/22 season and 41,000 tonnes for 2022/23.
ICAC said the drastic increase in fuel and energy costs have had a direct impact on fertiliser prices and availability globally.
Given so many variables and unknowns, the ICAC Secretariat is temporarily suspending publication of price projections.
Your help is needed: EKKA 2022
Are you heading to EKKA, the Royal Brisbane Show, or looking for a great reason to go?
Cotton Australia is activating an educational stand at the event with staff manning the stand for the nine days of EKKA.
But we also need growers, agronomists, ginners or shippers to join us on the stand. At the recent Cotton Australia general meeting, Joe Briggs (a Riverina grower), spoke about the enjoyment of engaging with the public at the Easter Show, and the thrill many got from meeting a farmer.
Like Joe, many growers involved in the past have found the experience uplifting, rewarding and meaningful. The opportunity for families in the city to connect with a farmer on the stand is invaluable and helps restore trust and appreciation for our industry.
Please consider volunteering for one or two days to help educate about our industry.
To register your interest, or for more information, contact Jenny Hughes: [email protected]
Northern Queensland growers: come along to field day
Growers in northern Queensland are encouraged to attend an R&D field day later this month.
Cotton Australia will join QFF, Growcom, and other peak industry bodies at the FNQ Growers' R&D Field Day in Mareeba on 29th July.
The event will enable new and potential growers to meet and network with the people behind the industries.
Entry is free.
QLD growers: share your views on emissions roadmap
Growers in Queensland are encouraged to have your say on the state government's draft Queensland Low Emissions Agriculture Roadmap 2022-32.
The roadmap will recommend ways to reduce agriculture's emissions and increase carbon farming.
To have your say, review the roadmap by clicking the link below, and then provide your feedback through the survey.
Consultation closes 10th August 2022.
Entries open for 2022 Zimmatic Trailblazer Sustainable Irrigation Awards
Growers are encouraged to enter the 2022 Zimmatic Trailblazer Sustainable Irrigation Awards.

The awards recognise farmers leading the way in sustainable irrigation and environmental stewardship.

The awards are open to Australian farmers who irrigate more than 25ha.
More than $25,000 worth of prizes are to be awarded including a trip to the USA.

The Awards are proudly supported by Lamb Weston, Sustainable Soil Management, IREC, Food & Fibre Gippsland and AGnVET Services.

Entries close 15th August 2022 - terms and conditions apply.