Coastal cotton: Maryborough farmer adds cotton to his crop mix
Coastal cotton: Maryborough farmer adds cotton to his crop mix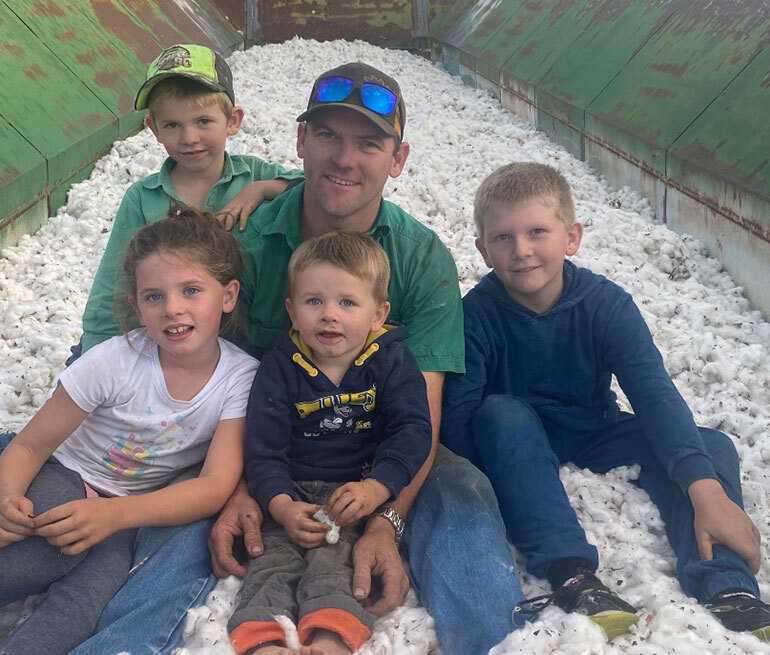 When someone thinks of where cotton is grown, chances are they'll picture wide swathes of land far away from crashing waves and sandy beaches.
Mostly, they'd be right – cotton in Australia is mainly grown on flat plains in inland Queensland and New South Wales.
But a small group of farmers in Queensland has turned that idea on its head and grown cotton in the sun-drenched, humid climes of the Fraser Coast.
An area renowned for its pineapple and sugarcane plantations, as well as being the birthplace of Mary Poppins author P. L. Travers, Maryborough has in recent years been home to fields of fluffy, white cotton.
Kepler Atkinson is a farmer in the region and this year grew his second cotton crop.
"Dad grew cotton eight years ago in a small trial, and then we've done it again last year and this year," he said.
"Dad and my brother both have farms next door to me, so we're a family operation.
"This year I grew 45 hectares of cotton, but we also grow soybean, sugarcane, and plant about 70,000 pineapple plants each year.
"Dad has a fruit packing shed next door too, so we're quite a mixed operation."
Aged in his early 30s, Kepler is part of the next generation of farmers keen to try new things.
"We decided to turn to cotton because the prices for sugarcane had been a bit poor, so it was a business decision to turn to cotton and give it a go.
"We knew it would work, given our water supply and warm temperatures, but it's like anything – a big learning curve."
Kepler said he enjoyed growing cotton and the need for 'hands-on' monitoring of the crop.
"We grew this crop under two centre pivots and the rest was flood irrigation. We averaged about 6.9 bales per hectare," he said.
"Up here on the coast, cotton grows easy, but the challenge is getting it to grow right.
"I love how you see something happening all the time when growing cotton. Every week you're in the crop and every week its looking different and changing. I've just enjoyed everything."
Kepler said in the Maryborough area there were two other farmers who also grew cotton.
"We chat with each other and find out what's going on with each other's crops and we all have the same agronomist. We had a meeting recently too which was pretty handy to have, so we're all on the same page about making a real go of growing cotton here on the coast."
Kepler said he wanted to improve his cotton growing over the seasons to come.
"I'm hoping to plant 65-69 hectares of cotton this year, and over the next few years I want to get better yields and pick up an extra half a bale to the hectare every year.
"It would be good to get more farmers growing cotton up here. I'm really grateful for the advice and help I've received from other growers in other regions.
"It's been a great experience so far and I hope I'll be doing it for a while to come."
Words by Robert Virtue