Bank-less systems helping cotton irrigators be more water efficient
Bank-less systems helping cotton irrigators be more water efficient
There is a feeling of excitement among cotton growers in south-west Queensland.
For years, they have worked together to find new ways to save water, and now they are leading the way in water use efficiency.
Through the use of bank-less irrigation systems, south-west Queensland cotton growers have noticed water efficiency gains of up to 20%.
Traditional hand siphons are being converted to siphon-less systems, which allow the water to flow down the furrows in a similar way to siphons, before the water is backed-up in the tail drain. This effectively waters the paddock from both ends.
St George irrigation specialist Glenn Lyons said growers are now realising that siphon-less, or bank-less irrigation, is a great way of improving many efficiencies on their farm and reducing the impact on the environment.
"We're providing a system that is ticking all the boxes for things like water efficiency, yield gains, labour savings and machinery efficiency," he said.
Scott Balsillie from Eastern Australia Agriculture at St George said he was growing 2,000 hectares of cotton this season at 'Kia Ora'. A total of 750 hectares of that crop required siphons and five staff to irrigate it.
The newly developed bank-less system was being used on the remaining 1,250 hectares, requiring up to two staff to irrigate it.
"Water-wise, we're going to see between 1.5 - 2 megalitres to the hectare saving on the bank-less this year [compared to] our siphon fields," he said.
"Over 2,000 hectares, you're looking at a fair bit of water saving."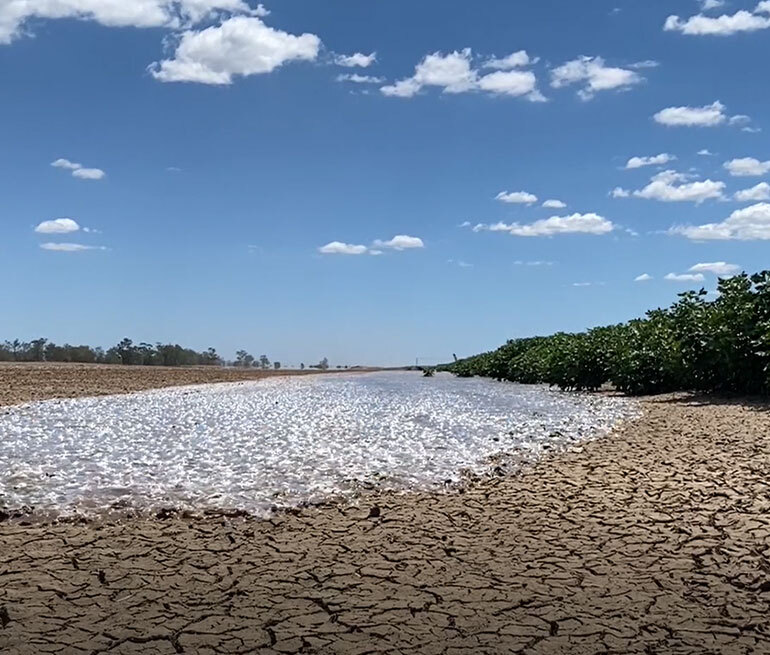 Craig Saunders from Saunders Farming said being as water efficient as possible was crucial for his operation.
"[For us] it's been a constant pursuit to get more out of our water, and the siphon just didn't cut it anymore," he said.
"We've tried other technologies, but for us, the bank-less is the way forward."
Scott Brimblecombe from 'Ashwood Farms' at St George said using technology has been important in driving efficiencies.
"We're pushing our water efficiencies all the time, and we're trying to get better and better," he said.
"We need to get this farm as productive as possible, not only for me as a business, but also we have to be able to prove that, from an environmental point of view, we're good stewards of the water that we're using."
Words and video by Sally Rigney