Cotton Jobs Australia launched to connect growers with job seekers
Cotton Jobs Australia launched to connect growers with job seekers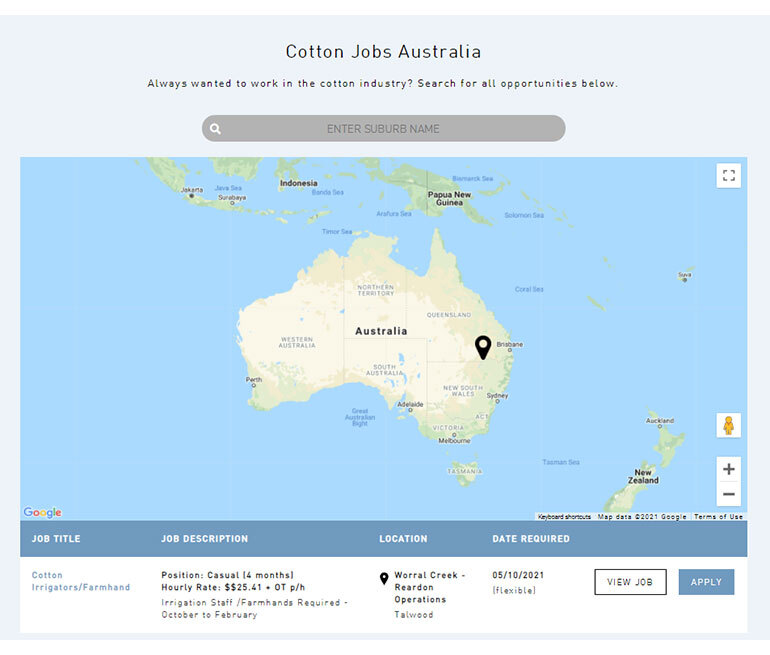 A new service has been officially launched connecting cotton growers with job seekers in an effort to solve one of our industry's most enduring challenges – the shortage of seasonal workers.
The Cotton Jobs Australia website enables Cotton Australia levy paying growers to post jobs they need filling while encouraging candidates to apply for those jobs through a simple online form.
This service will play a vital role in addressing the industry's seasonal labour shortages, which were worsened by the COVID-19 pandemic.
If growers haven't done so already, you are urged to create an account on Cotton Jobs Australia and to post your job vacancies as soon as possible.
It is hoped the new platform will attract applicants to apply for the jobs as soon as possible.
If you know of any other potential applicants, please encourage them to go to the Cotton Jobs Australia website now to discover their next career opportunity.
Cotton Australia has compiled informative resources to guide growers through the job posting process, and growers are also reminded that successful applicants will need to complete Work Health and Safety training before starting their role.
Click here to register for a Cotton Jobs Australia account

Click here to login and post your jobs